What We Offer

McRocks Jewelry offers one-of-a-kind hand-crafted pendants made with silver, copper and gold wire and sheet and self-made designer cabochons.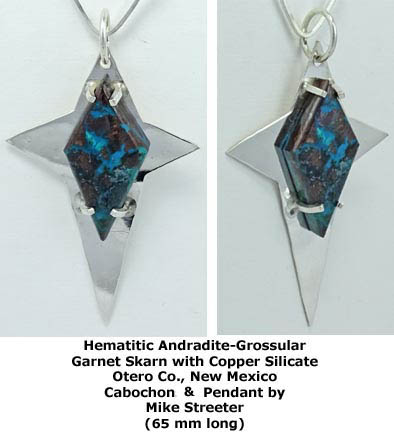 Many of our cabochons are from rocks and minerals we collected, often from exclusive and remote locations known only to us. We carefully select only the finest cabochons and strive to employ what some refer to as simple elegance with our wirewrapping and silvermithing as each one is the centerpiece of a pendant. Since the rock from which a cabochon is made is God's work, we strive to live in His glory by displaying it in its best light.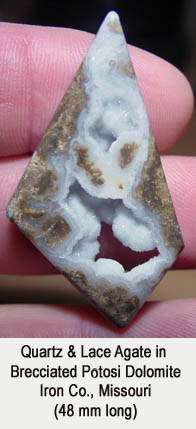 While we don't always adhere to conventional techniques, we try our utmost to produce only quality pendants anyone could be proud of. One of our specialties is what we refer to as a "vugochon", ie., a cabochon that contains a natural crystal-lined vug.
Mike uses sterling and fine silver and sometimes copper for his pendants and Chrissy only uses Argentium sterling silver and sometimes gold-filled wire for wrapping. Argentium sterling silver is a modification of the traditional alloy (92.5% silver + 7.5% copper) with some of the copper being replaced with the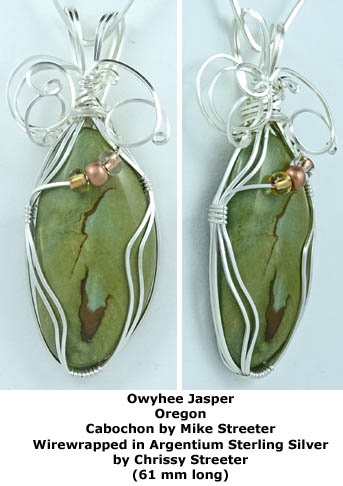 metalloid germanium. As it retains the same 92.5% silver content, it is still sterling silver, just as the traditional alloy, but highly resistant to tarnish.
We consider our pendants to be a combination of the three aspects: 1) a killer polished rock or mineral specimen; 2) a fine piece of jewelry; 3) a unique work of art. It is our hope that our jewelry will be appreciated for many years to come and handed down from each generation to the next.
In an effort to educate those who may wonder about how McRocks Jewelry is made, I put together a demonstration that shows in detail the great amount of time, expense, effort and specialized skills required to create one of our sterling silver cabochon pendants from start to finish - click on the following link to view it:

Click here for Pendant Design Demonstration