A Dark Purple Amethyst Day
Diamond Hill Quartz Mine
Antreville, South Carolina
April 2-3, 2005
By Mike Streeter
mcstreeter@charter.net
I can understand that many of you must be thinking, "not another stinking field trip report about Diamond Hill". But, believe it or not, we ran into something there last weekend that was new to us - large dark-purple amethyst crystals in a clay pocket. We also recovered some more excellent plates and clusters of pale amethyst in the same general area where the dark ones were found.
After seeing some pictures of Diamond Hill amethyst that were recently posted on the Georgia Mineral Society's web site, I felt compelled to head back to Diamond Hill to try my hand at figuring out where the material was found. I knew that the dark purple quartz was recovered from somewhere in the new pit, but where in the new pit was the question. From digging there previously, I had one of my "feelings" on where to dig, so Chrissy, Opal and I showed up bright and early on Saturday morning to test my theory.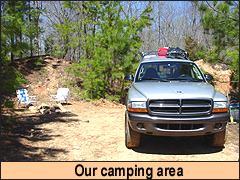 We planned to spend both Saturday and Sunday at Diamond Hill. So, rather than make the 4-hour round trip home and back, we set up camp at the mine. The weather forecast called for high winds for the weekend, so we opted to leave our pop-up camper at home and to sleep in the back of the Dodge. The temperature Saturday night would get down into the mid-thirties, so we ended up getting a little bit cold overnight and we were somewhat cramped in the back of the truck - mostly because Opal is such a bed hog. We will probably only sleep in the back of the truck again in a pinch.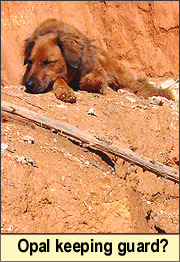 I spent two days digging a monster hole in the newest big pit. Chrissy spent much of her time prospecting and scratching at various other places on the property while I continued to move major quantities of rock and dirt in my quest to hit the mother lode. She would stop by from time to time to see how I was doing and to get out of the wind that was howling on Saturday with gusts up to 40 mph. When Opal wasn't napping in the sun, she stayed busy keeping track of both Chrissy and me, and by thrashing every fallen tree limb that she could find.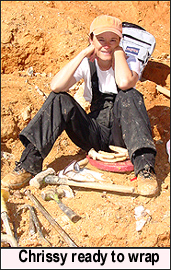 By mid-afternoon on Saturday, I dug myself into an area that was rich with vugs and pockets that contained what appeared to be milky to translucent quartz covered with manganese and iron oxides. Ordinarily, I would have been happy to find this type of material, but I had already dragged home a bunch of this stuff in preceding weeks. I set all these specimens aside and continued to work the hole up and down trying to find the right horizon for amethyst.
It wasn't long after that I discovered a large seam pocket that contained what appeared to be amethyst. I say "appeared" because the plates and clusters were covered with a thick coating of brown iron oxide that masked the quality of the crystals. However, I could tell on some of the broken edges and by the blocky crystal shapes that there was amethyst in the mix. I assumed the amethyst was the pale lilac-colored variety similar to what I had previously recovered nearby. I ended up pulling out numerous plates, big and small, that would turn out to be amethyst.
The following pictures show the same specimen before and after cleaning in hot oxalic acid. The amethyst sure likes to hide at Diamond Hill.
Click on each specimen picture to enlarge
The following are a few more pictures of the pale amethyst plates and clusters that we recovered.
Click on each specimen picture to enlarge
By around 6:30 PM we called it a day and began to prepare for what turned out be a cold and crowded night in the truck bed. We dug a campfire pit and surrounded it with a ring of large rocks. We didn't seem to have any problem finding enough available rocks for our fire pit! The wind couldn't make up its mind from which direction it wanted to blow, so we spent a lot of time circling the fire pit to keep the swirling smoke out of our eyes. That's fun after a long day of digging - not! At least it was warm and we were able to heat up our dinner of black beans, steak and rice. Chrissy joked that I was only person whom she ever met who eats salad while sitting around a campfire - how civilized!
We were up with the early birds Sunday morning and were back at it in no time. I returned to my hole in the pit with a mind to follow the vein that I had been working in a new direction. Ironically, I ended up digging in the direction where I had thrown most of the previous days dirt and rock. Lucky me - I got to move that pile all over again so that I could extend my hole beneath it.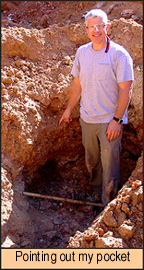 It was about 10:30 AM Sunday morning when Chrissy heard one of my trademark giant whoops from across the mine. I passed her going toward my hole while I was heading in the opposite direction to get my camera out of the truck. I had finally managed to find a in-situ clay pocket that contained what appeared to be a large amethyst crystal. In all the years that I have dug at Diamond Hill, this was the first amethyst crystal of this size and color that I had found there so I was understandably excited.
It only took about 10 minutes to clear the path to safely extract the crystal from the pocket. The amethyst crystal is complex with 5 individual points and measures about 4" wide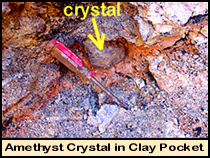 by 4" tall. I also found a single 3" long crystal hiding out in the same pocket. I noticed that three of the points on the larger crystal were slightly chipped but the damage was not caused by my actions as I had been exceedingly careful removing it. I surmise that the crystal must have been chipped by the force of a trackhoe bucket as it was apparent that machine digging had previously been performed nearby. A clay pocket generally contains other quartz and rock fragments that can cause crystal tip damage if enough force is applied to it.
The pocket only gave up the two amethyst crystals, but I wasn't complaining. I spent until mid-afternoon trying to locate another pocket to no avail. I did recover some more plates of potential amethyst. We finally surrendered around 4:00 PM, cleaned up and headed for home. I could hardly wait to clean the specimens, especially the two largest ones, to see what we really had once the oxides were removed.
The following pictures show our two largest specimens before and after cleaning in hot oxalic acid. Makes me think of grape jelly!!!
Click on each specimen picture to enlarge
I'll try to hold back on any future Diamond Hill reports . . . unless, of course, something that I just gotta share with my peeps happens again . . .
---
CLICK THE LITTLE MINER TO RETURN TO THE FIELD TRIP PAGE