Meckley's Limestone Quarry
Mandata, Pennsylvania
August 14, 2005
By Mike Streeter
mcstreeter@charter.net

We were graciously invited by RJ Harris and other members of the Central Pennsylvania Rock and Mineral Club to join them on their annual August picnic and field trip to Meckley's Limestone Quarry in Mandata, PA. Meckley's is best known for its beautiful blue celestite, but other minerals, including calcite and strontianite may also be found there. The quarry is opened to the general rockhounding community only one afternoon a year in September, so we were thrilled to be invited to join the club on their exclusive August field trip. We arranged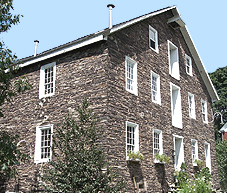 to swing by and stay over in the area on our way up to Bancroft, Canada where we would spend the rest of the week collecting (our Canadian experience is for another report).
Chrissy, Opal and I showed up at the picnic around 12:30 PM where others had already started to congregate. The event was held on the grounds of Ted and Holly Keck's historic "Blackstone Mill" on the Mahantango Creek in quaint Pillow, PA. Ted and Holly welcomed us and informed us that RJ was a bit under the weather and would not be able to make it that day. There was quite a crowd of good-natured rockhounds with whom to visit and plenty of excellent food to eat.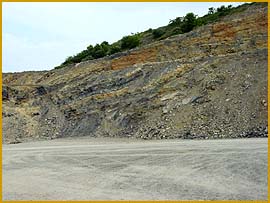 At around 2:00 PM, a group caravaned about 5 miles to Meckley's. A temperature of 92 degrees and a dew point in the mid-70's caused some of the wiser rockhounds to stay at the picnic instead of going to the open quarry where they knew it would feel like a furnace. Since Chrissy and I had gone out of our way to be there that day, we really had no choice but to collect - not that we wouldn't have gone anyway even had we lived next door . . . I have seldom been accused of being wise when it comes to putting myself out there to collect.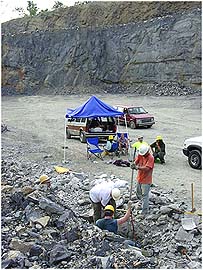 Chrissy and I were blessed to get plenty of advice on where the best places to dig were from those in the club with the most recent experience at Meckley's. There was one area in the quarry where most of more hard-core diggers gathered to bust into the hard limestone strata in search of pockets containing blue celestite and other minerals.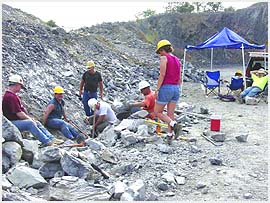 The heat and humidity were almost unbearable. A canopy was raised to provide a shady place to take breaks. A couple large beach umbrellas were also raised to provide relief to the diggers. For a while, Chrissy put down her tools and assumed the vital role of umbrella holder to shield me from the incredibly hot sun.
It wasn't long before our separate holes merged into one long trench and we all banded together to move rock and search for pockets. The cooperative effort helped to make up for our losses of strength caused by the intense heat. It became so hot by the middle of the afternoon, that I could only work for a few minutes before having to take a three-minute water and shade break.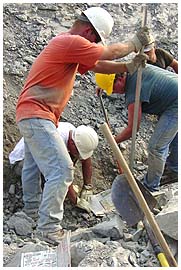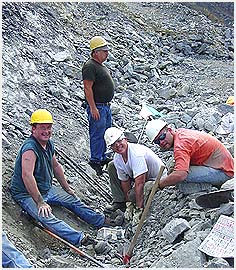 Rick Watts, Kerry Matt,
Mike Streeter and Scott Snavely
(left to right in middle picture)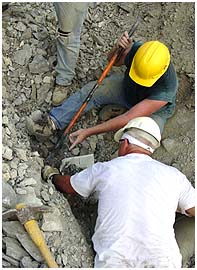 All the guys went out of their way to make sure that Chrissy and I received the best specimens. Rick exclaimed to us all that, "Anybody who came all the way from North Carolina to dig in this heat deserves to get something good!" Despite the brutal digging conditions and by working together, we were able to find many pockets containing celestite, calcite and strontianite. The following pictures show some of specimens that we earned that day.
Click on each specimen picture to enlarge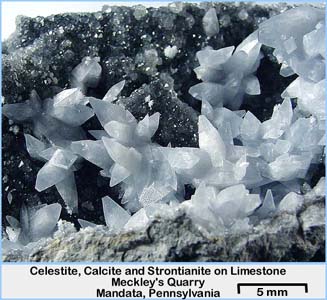 Click on each specimen picture to enlarge
Click on each specimen picture to enlarge
Click on each specimen picture to enlarge
Click on each specimen picture to enlarge
Chrissy and I thank the Central Pennsylvania Rock and Mineral Club for including us on their special day. We'd especially like to thank the following people for their advice, help and hospitality: Ted and Holly Keck, RJ Harris, Rick Watts, Kerry Matt, and Scott Snavely. Even though I ended up with a moderate case of heat exhaustion, it was great hanging out and digging with such a wonderful group of people!
Click on the following link for more information about the Central Pennsylvania Rock and Mineral Club.
Central Pennsylvania Rock and Mineral Club
---
CLICK THE LITTLE MINER TO RETURN TO THE FIELD TRIP PAGE