My Southeast Experience
Graves Mountain, Georgia and More
October 2006
Report by Donna Nolte
(NolteDonna@sbcglobal.net)
Pictures by Mike Streeter, Faye Burke & Don Reems
Specimen pictures by Mike Streeter
You all might want to go to bluegrasscountry.org and listen to it while reading this.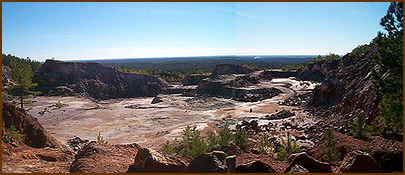 At Graves Mt., I was warned to get there early for dig the following morning....so arriving at 5AM after twisting around Georgia roads half lost in the dark without coffee I was almost laughed off the mountain when our wonderful host of the mountain, Mr. Norman arrived just before 7 at daybreak. E for effort!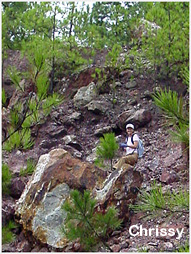 I quickly tailed Mike and Chrissy Streeter and watched one of my highlights of rock hounding. A little slip of a sparkling woman with a body of iron climbed up the steep slope and dug into the mountain like a badger. She came down with beautiful and rare green pyrophyllite.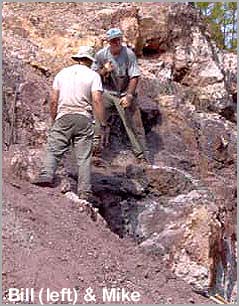 Being an out of shape ol grey mare, it was a joy to watch this marvelous team. After a couple hours of looking through tailings of past days digs, I sat and watched Mike use his skilled knowledge to choose cracks, pound appropriate spots and, in awe, his nonstop mauling of the wall. Jeff Deere and Bill Hayward worked along side of Mike. It was like watching an artist paint.....first there was only a grey hunk of wall, then bit by bit it became a definite outline of what was to come, then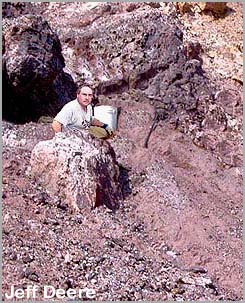 the boys started to hit pay dirt and allot of running up and down with minerals by Jeff, Bill up on top and Mike's non-stop pounding and choosing the next step of extraction. After several hours, I still sat watching the choices made, the tools used, and wished I had a video or at least a camera but that was not to be. All at once it happened.....they opened the wall up and from down below I could see the bright colors dance in the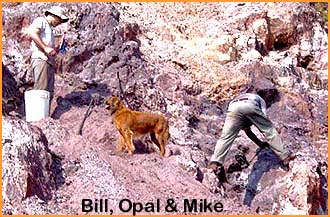 sun with joy to be found and released from their many years of captivity. These are the brightest and most beautiful minerals I have ever seen from the USA....including the colors of the Flambeau Mine, Ladysmith, WI bornites of the mid 90's. As the boys brought them down, it seemed they only got more exciting to see-it was a lifetime thrill to watch.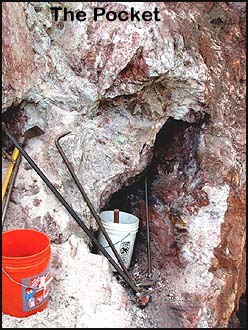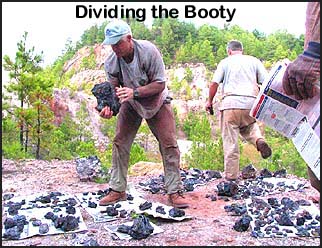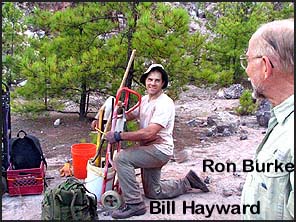 When the day was done, the dividing up of minerals over, Chrissy and Mike put many fine specimens in a tote for me to bring back, share with children and show to others in this area. Already this is occurring......and I can only say that a finer rockhound couple cannot be found. What a team....... what beautiful human beings.... Thank you Lord for giving me this pleasure of their presence. Cinnamon, my dog, and Opal became new friends....hey Opal, Cinnamon sends you another kiss on the nose!
click on each specimen picture below to enlarge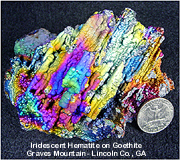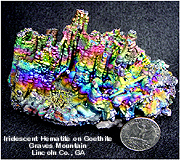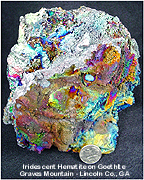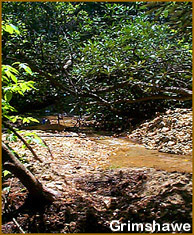 Sleeping in my car for almost a month, I wove the Nantahala, Chattahoochee,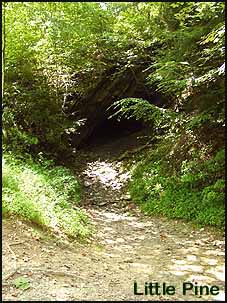 Sumter, Pisgah and Cherokee National Parks. In North Carolina I dug at Grimshawe, Little Pine and got some Unakite. Coming down from Hot Springs I talked my way into sudden death........... Cinnamon and I went up on a hot balloon ride after wine for courage. I bathed in warm springs, saw an elk, bear, grouse, blue herons fish and watched apple butter being made. Round dancing, pottery shed, water wheeled mills, and the lightest biscuits in all the world to dip in gravy or sour wood honey. A different pace, of grace.
It was amazing to me as I chatted with the locals of how I enjoyed this so much. They told me of their hardships, the customs, their joys and sorrows. I quickly found where music, good country food and out of the way spots to see were. Rock hunting was fun but doing it with a group is more so.... for it is with the fellowship that memories are made.
I unpacked today..... from my precious minerals out rolled a giant acorn, Cinnamon's southern biscuit was crumbled in stones. Memories stored to be shared with others as the minerals/rock will be. Thank the Lord for this part of the U.S.A. and to the folks that live there.
---
CLICK THE LITTLE MINER TO RETURN TO THE FIELD TRIP PAGE