The Catawba Valley Gem and Mineral Club based in Hickory, NC made our annual Labor Day field trip to Kentucky to collect geodes.
Since Janice has to work at the church on Friday, and we start collecting on Saturday, and it is a good five hour drive from home, I always leave around midnight and drive straight through. With two of us sharing the drive, and making frequent stops, we can usually arrive pretty well rested.
We arrived in Danville, Ky around 6:15 am, just in time to get to the Cracker Barrel restaurant for a good hearty breakfast. Since we did not have to meet the group until 9:00 am, we took our time and enjoyed our meal and coffee.
As the appointed time drew near, we drove over to the Holiday Inn Express parking lot, which was our meeting spot each day at the same time. As we drove up, we notice one member already there, and the other groups came very shortly. I had been in phone contact with Mike and Chrissy Streeter, so I knew they would be up after lunch.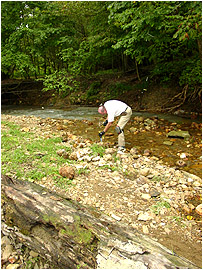 After we all got grouped up, we began with a trip to Junction City, which is about 10 miles away. When we drove up to the collection area, we noticed that the creek had been dredged out and the water was about 12 inches deep. There were plenty of geodes lying around though. The riverbed is mostly clay, which can be very slippery sometimes. As you look at the creek bank, you can notice the different geological time areas. Millions of years ago, during the Mississippian period, this area was all covered with water. The bottom layer is mostly clay in which you can find crinoid stems and brachiopods. Above this layer, you find a layer of shale that is about three to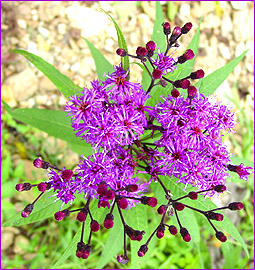 four feet thick. Above this layer, and extending upwards of 10 feet is the layer the geodes are in. About 95 percent of the geodes at this location are quartz lined. Some are a very pale lilac amethyst, some barite, some calcite, some chalcedony. But there are plenty to go around for all our members. First time collectors will crack open the geodes and keep almost everyone they find with any hollow center. Those of us that have been going several years only keep the best of the best. I broke open about a hundred, and only kept six.
After a hearty meal of homemade chicken salad and pimento cheese sandwiches that my wife Janice made the night before, we worked about another hour and called it quits at this site. We went to the owners house and presented him with a gratuity of homemade jam. (He will not take any money). He invited us to come back anytime. We bade him farewell and let him know we would be back next year.
We drove back to the hotel and checked in. Janice stayed there along with one of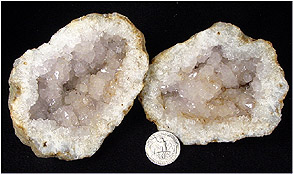 the other ladies from the club, and finished checking and putting our stuff away. The rest of the group met up with Mike and Chrissy over on the Green River, as they had arrived and gone straight over there. This section of the river is also only about 12 inches deep in most places, but it is much wider. Again, there are geodes scattered everywhere. We found it was easier to collect the geodes in buckets and bring them back to the riverbank to break them open. Mike and Chrissy had already broken several bucketfuls but they had not picked the place clean. There were ample geodes for everyone. Again, most of these are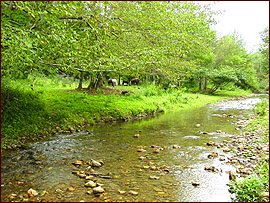 quartz lined. There are a few chalcedony, but mostly quartz. We collected here until almost 5:30 pm and decided to call it quits for the day.
We drove back to the hotel, cleaned up, and joined again for a leisure time at a local restaurant. After our meal, we said our good nights and agreed to meet the next morning.
Sunday morning found us all out in the parking lot raring to go on the next leg of the journey. We pulled out of the parking lot just after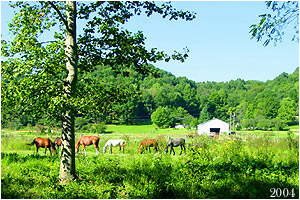 9:00 am for the drive over to Broadhead, which is about 20 miles away. Mike says this is his most favorite place to collect on this trip, and I will have to agree with him. As is our custom, we always give the owner a small gratuity of homemade jam or juice. Mike presented the owner with a picture he had taken, mounted and framed from a couple of years ago showing his pasture and his horses. The owner was deeply touched. He showed everyone his rock garden, lined with geodes, and he had to take the ladies in to show them the rock fireplace he had built with geodes.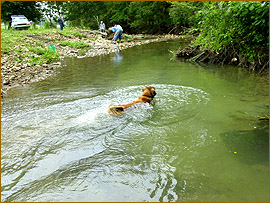 After our short interlude, we drove down to the collecting site. This a stream that is about three feet wide and again in most places on about 12 inches deep. While everyone else was getting their tools and buckets unloaded, Mikey comes carrying up this large geode, (12-15 inches in diameter) that is lined with quartz crystals. He tells everyone this is what is typical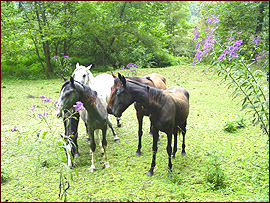 here. We split up and each went in search of their own special find. Again, new collectors tend to keep everything they find. Older collectors are a bit more selective, keeping only the best of the best. If they do not have a large pocket, I leave them. Unlike the previous day, I kept about two bucketfuls. About 95 percent of these geodes are chalcedony, with the other five percent being quartz. There is also a lot of yellow jasper and a few pieces of pet wood, along with a few pieces of shale with marine fossils, usually crinoid stems and bi-valves.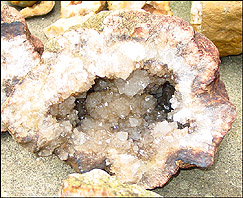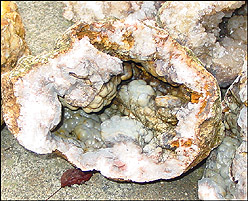 Around lunch time, several members had to leave and drive back to NC, so they departed. The rest of the group, collected until around 3:00 pm and started back to the hotel. On the way, we spotted a road cut that appeared to contain pink dolomite and calcite crystal specimens. We pulled over and started to collect. After moving up onto the second ledge, we found several good specimens of white calcite, pink dolomite and sphalerite. We stayed there for about a hour and a half.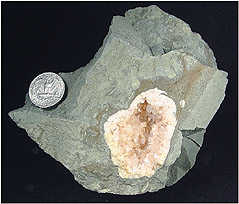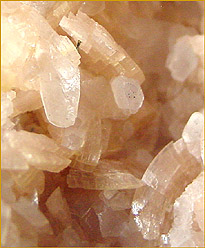 Monday morning found the remaining group in the parking lot again. We set off for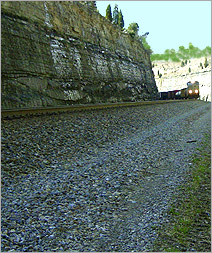 our collection spot in Kings Mountain, Ky. that our friend Everett Harrington had told us about. This spot is about 30 miles from our hotel. We drove over to the collection spot which is next to the railroad tracks. These geodes fall out of the limestone cliffs as the trains come through. It was a short walk in of about 1/4 mile. One must be on the lookout for snakes that have fallen out also. These may be hurt, but still dangerous. We collected here until noonish, collecting several bucketfuls. These geodes and the limestone matrix, remind me of a lot of the geodes at the old Hall's Gap location, that is now closed. I did not see any of these with millerite in them, but you never know. After getting back to the cars, we cooled down a bit and headed home, stopping to eat lunch on the way. Everyone was pleased with their specimens they collected and there was good fellowship and fun had by all.
---
CLICK THE LITTLE MINER TO RETURN TO THE FIELD TRIP PAGE