Needing to stretch Rick and I walked down the camp road to the fee box. I inspected the road gravel, slopes, "mystery road", and every area of erosion between the two roads near the bottom. I was generally just dinking around. BOOM!!! My decades-trained rockhound eye suddenly snapped and focused! The sun was hitting INTO an unusual deep blue color with a fine layer of dust over it nestled into dirt and gravel! When I felt the small heavy dark crystal lift into my fingers and rubbed it to reveal two translucent pink edges I was really stunned to the point of feeling like a Miracle had just happened.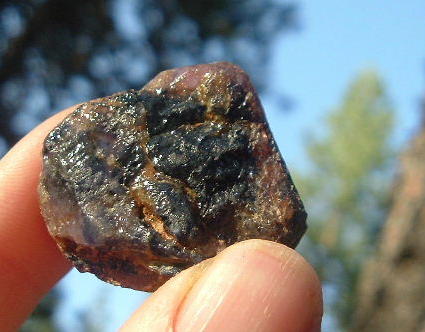 MY FIRST #9 !!!
Within one hour of arrival I had what I knew beyond any doubt was going to be my BEST rock find of the trip. Sometimes an experienced hound just KNOWS. Right then I also Really regretted not bringing a fishing pole! HA HA HA. Rick, smiling,had listened to my babbling and was standing by in case I fainted from shock. He rubbed it in by saying "Well, Now that you found THAT, what do we do for three days?! He also informed me he wasn't going to stress over anything that small himself and he intended on finding a quartz crystal! I'd told him the books & DVD said there was quartz around and we'd already seen the roads, rivers and creeks beautifully lined with white quartz and pink granite!
Well, the rest of that day is pretty much a blur I was so tired and ecstatic from my FIND (both) except that the INSECTS were just awful in that camp. First many both regular and deer flies and later a huge number of tiny but hungry mosquitos. We called 'em "The Deet-Eater Squad" ! If you go, Be Very Prepared! After a meal in our screen tent we sacked out very early.
Day 2
I woke up,looked at my corundum, thought "COFFEE", and by the time I was done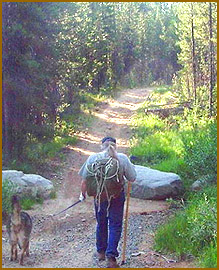 preparing and drinking it Rick and the dogs were ready to go (he drinks a Coke in the morning!). Our plan was Ruby Meadows! Or so we thought. Drove over. There was the trailhead, fine and dandy, but we were so fresh and eager we marched right past "the cabin" (now a pile of logs) indicated on the book map! It's beside the LOWER (shortcut) path into the digs about a half mile up. It didn't help that a huge tree had fallen covering the entry path which was much smaller than the ATV road we were walking on.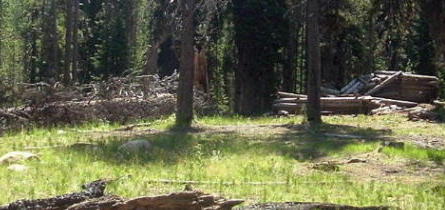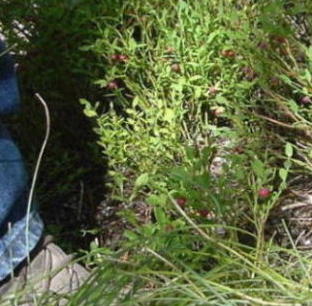 Long story short: we walked a mile too far, found the upper older dredgings that are covered with moss and knew we had it all wrong. The rock piles a mile and a half UP are really overgrown and not the barren workings I expected to be screening. The wonder of it though, was a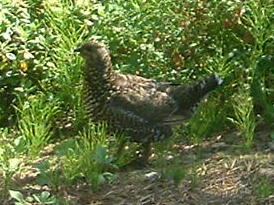 million, and I mean a million, small red ripe berry bushes that showed me for the very first time in my life how a bear could actually be FED on tiny berries! Also a grouse stood her ground and clucked at me instead of running which I really enjoyed. We explored and grew hot and tired not finding much at all rock-wise. When we returned to the ATV road and started down we found our mistake; below us through a clearing was the barren huge bowl of dredgings that was THE Ruby Meadows!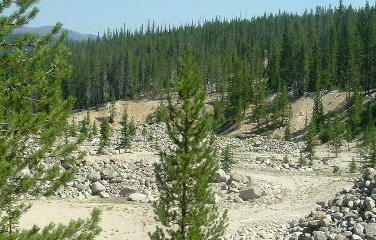 Report continued . . . . . . .