Corundum Knob - Buck Creek Field Trip
Clay County, North Carolina
July 22, 2006
Report by Mike Streeter
(mcstreeter@charter.net)

As field trip coordinator for the Southern Appalachian Mineral Society, I scheduled a field trip to Corundum Knob and Buck Creek on Chunky Gal Mountain in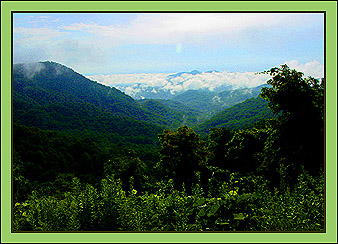 Clay County. I invited the Rome Georgia Mineral Society to come along. Of course, Chrissy was there to help me out having been to the Gal many times herself. Opal also got to tag along to add her own comic relief to the day.
As a collecting area, Chunky Gal is best known for corundum in various colors, including pink, gray, white, red and blue. On and near Corundum Knob, small pink to blood red corundum can be found widely disseminated in a beautiful pale green to emerald green rock called smaragdite, which is composed of mostly olivine, calcic plagioclase and aluminous amphibole (edenite).
It was raining steadily when we left our house near Asheville that morning. However, the radar image on the weather channel indicated that the rain clouds would soon pass to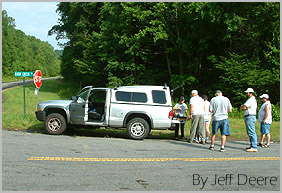 the east. Sure enough, the rain and fog were gone by the time we made it to Franklin. I stopped at a lookout on US-64 near Winding Stair Gap to take the above picture.
Our group of rockhounds gathered at a pre-arranged spot at the intersection of US-64 and Buck Creek Road at 9:30 AM. Chunky Gal is a wide area with dozens of specific collecting spots. All, but one individual, had never been to the area before, so my plan was to show everbody a couple good collecting locations on the east and southeast flanks of Corundum Knob.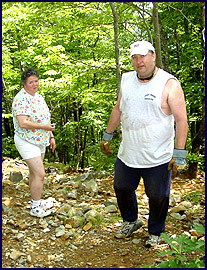 Mary Siniard & Dan Olsen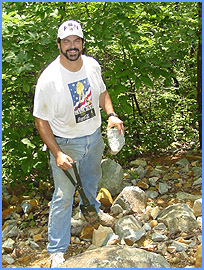 Dave West
Finding specimens can be done by digging, boulder busting and a combination of both. Or, you can simply walk the steep mountain slopes and hope to get lucky by turning over enough rocks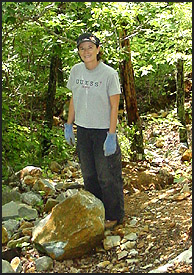 Chrissy Streeter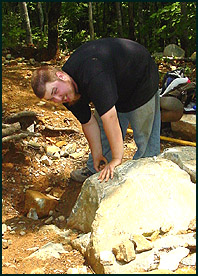 Josh Foster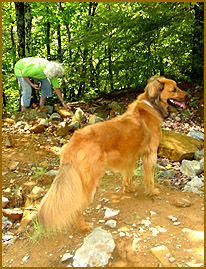 Opal Streeter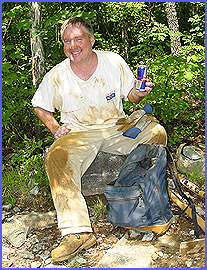 Jeff Deere
It looks to me like the company that makes Red Bull energy drink may have found a great new spokesman for their product. . .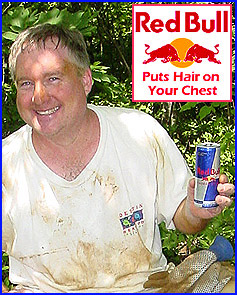 The following pictures show my haul for the day and a few of my more noteworthy specimens.
Click on each specimen picture to enlarge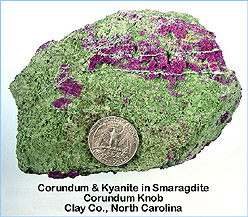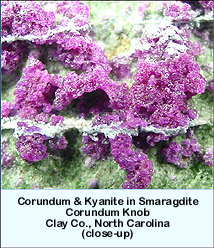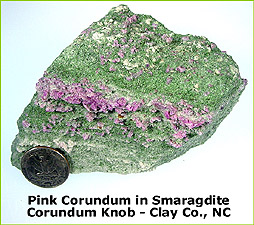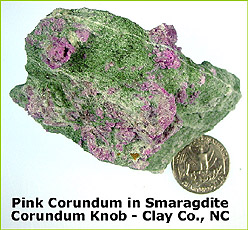 After a late lunch on the Knob, we caravaned down to Buck Creek where the group spent the middle afternoon screening the creek for gemmy almandine garnet fragments. An occasional sapphire crystal can also be found here, but they are few and far between at this location. I could think of no better way to spend the hottest part of the day than wading in cool creek water.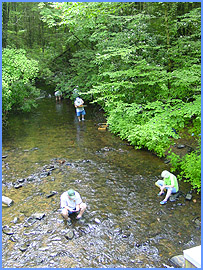 Buck Creek
from the bridge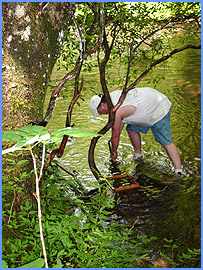 Dan on the hunt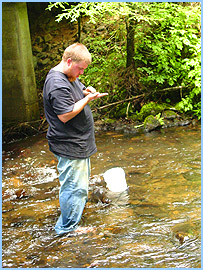 Josh picking out
the red ones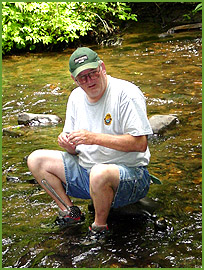 Ken Lackey cooling off

Winnie had more help than she asked for from her new friend who just happened to be there with her rockhounding daddy. Opal was glad to have someone with whom to splash around the creek.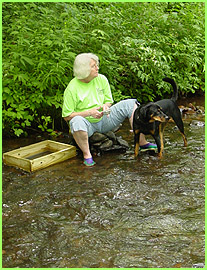 Winnie Baron and Tracker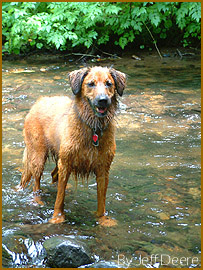 Bring it on!
The garnet fragments in this part of the creek don't usually get bigger than about 1/8-inch, but they sure are gemmy.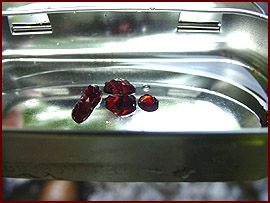 Almandine Garnet Fragments
(Altoid tin for scale)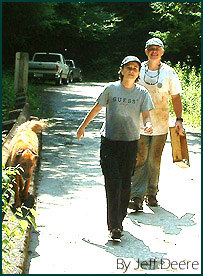 The Family Streeter

By about 3:30 PM, just about everyone was ready to call it a day. We were dirty, wet and tired so we dragged our soggy selves back to our nearby vehicles. Opal wanted to stay so that she could continue playing with her new buddy, Digger, but she followed us out with some reluctance. After saying our goodbyes, we loaded up our gear and headed toward home. Chrissy and I made one last brief collecting stop, but that's a story for another time . . .
It was my and Chrissy's pleasure to lead such a good-natured bunch on about as perfect a day as you could ever get on the Gal.
---
CLICK THE LITTLE MINER TO RETURN TO THE FIELD TRIP PAGE