The following pictures show some of the terrific specimens that were recovered by the group.
With the end of the morning starting to loom, my good buddy Bill Hayward and I took turns swinging his 16-lb. sledge. We were attempting to recover what appeared to be a decent specimen of siderite, biotite and quartz, except that it just happened to be attached to a boulder that weighed at least a ton. I was banging away when a cabinet-size piece of rock broke loose. When Bill turned the rock over, we were both amazed to see what appeared to be a cluster of clear quartz crystals with a coating of some type of granular green mineral. This assemblage of crystals had formed in a vug adjacent to a milky quartz vein. It wasn't until I got the specimen home, cleaned it up and inspected it more closely with my reading glasses and a loop did I realize that the clear crystals were actually striated calcite with a coating of what is most likely some type of dark green zeolite. Cool beans!!!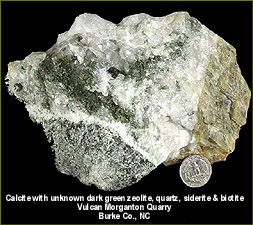 photo by Mike Streeter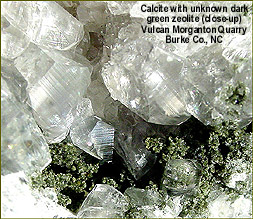 photo by Mike Streeter
Click on each calcite/zeolite picture to enlarge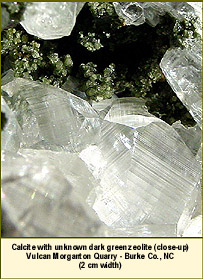 photo by Mike Streeter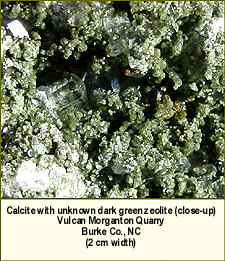 photo by Mike Streeter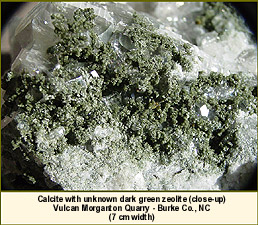 photo by Mike Streeter
Many thanks to Jim Stroud, Vulcan Materials, the Forsyth club and DMC for making such a great morning of rockhounding possible.
---
CLICK THE LITTLE MINER TO RETURN TO THE FIELD TRIP PAGE