The 42nd Forum on the Geology of Industrial Minerals was held in Asheville, North Carolina and was hosted by the North Carolina Geological Survey. It was my honor to help out with a field trip to the Ray Mica Mine in Yancey County, the Hoot Owl Mine, Emerald Village and the Bon Ami Mine in Mitchell County and the Appalachian Stone Yard and River Quarry in McDowell County. The advertised description of the trip was as follows:
"This trip will tour the old and new industrial minerals mining in western North Carolina. Two or three abandoned pegmatite mines will be visited where one can collect quartz, microcline, albite-oligioclase, muscovite, tourmaline, beryl, aquamarine and other minerals. Active until the late 1940's, these pegmatites provided the early mica, feldspar and quartz for which the Spruce Pine Mining District is noted. The first stop at the Wray Mine will include a fifteen-minute walk and provide the most interesting collecting. The second stop at the Hoot Owl Mine, where a short half-mile walk will place one at the core of a pegmatite to examine its internal make-up. The third stop will be at the McKinney and Bon Ami mines where we will eat lunch, observe old mining equipment in the museum, and visit other mineral, mining and cultural displays."
After lunch at least one stop will be made in a flagstone operation to observe western North Carolina's newest industrial mineral industry. An opportunity will be provided to view the mining, splitting and packaging of flagstone that is shipped primarily throughout the southeast from Texas to Florida. Most operations carry stone that they mine at different locations or acquire from other operations in western North Carolina. Therefore their stock usually contains a large variety of different stone including some stone from outside North Carolina." (from www.geology.enr.state.nc.us/)
The excursion was attended by geologist, engineers and spouses from all over the country and world. The following pictures and captions tell the rest of the story about a great day.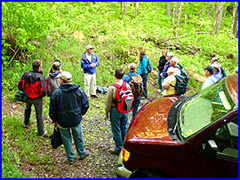 Co-leader & NC Geological Survey's
Carl Merschat presents brief
geology lesson to group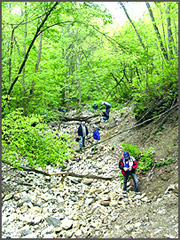 Group on Ray Mine Creek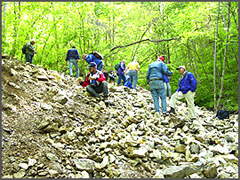 Collecting in spoil piles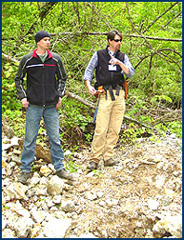 Co-field trip leader & NC
Geological Survey's Bart
Cattanach & Nick Bozdog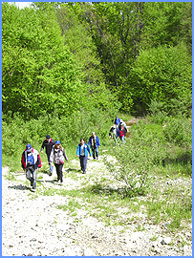 Hike to the Hoot Owl Mine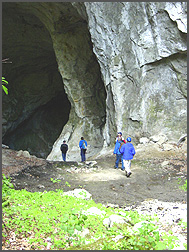 Hoot Owl Mine adit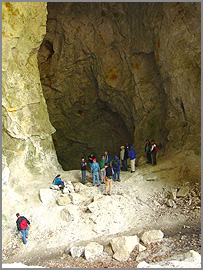 Inside Hoot Owl Mine adit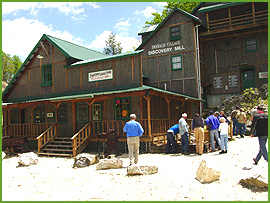 Emerald Village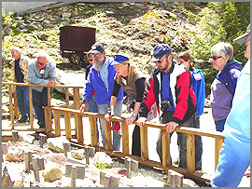 Emerald Village rock garden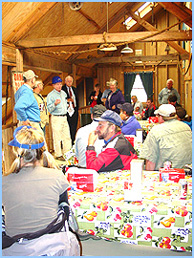 Carl Merschat provides geological
and historical overview during lunch.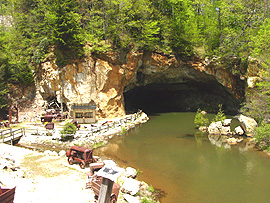 Bon Ami Mine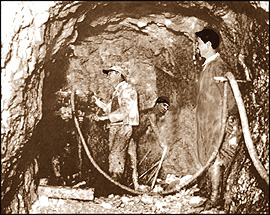 Old photograph in Bon Ami museum
The miners look familiar to me . . .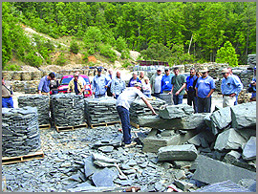 Rock splitting demonstration at
Appalachian Stone Yard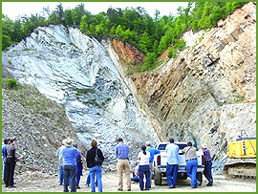 River Quarry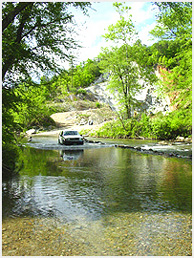 Fording the N. Fork of the
Catawba at River Quarry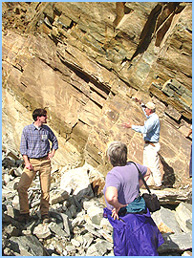 Carl Merschat pointing
out Linville thrust fault
---
CLICK THE LITTLE MINER TO RETURN TO THE FIELD TRIP PAGE