After the brief tour of the drift, I led those who were interested back down the road and up to the main spoil pile area. Most would spend the remainder of the day digging outside, although there were several hearty souls who went underground to try their hands at recovering garnets from the very hard chlorite-schist walls.
Despite nearly contant and frustrating slumping caused by a saturated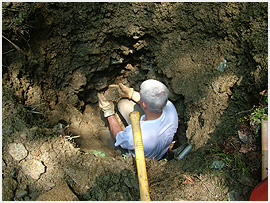 overburden, I managed to dig my own deep hole down and into fresh spoil pile material. But, it seemed that every time I got my hole to where I could pick at the margins for matrix pieces and loose garnets, one of the sides would collapse and I'd have to quickly scurry out of the way. Having dug at the Little Pine many times before, I knew that there is a greater frequency of collapse when the overburden is especially wet, so I was very careful to not put myself at risk of being buried. After each collapse, I'd have to muck out the hole AGAIN in order to be able to collect. As is often the case there, it was time to call it a day when, after a final major collapse, I didn't have the energy or will to re-dig that rotten hole.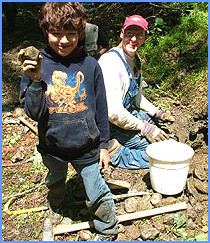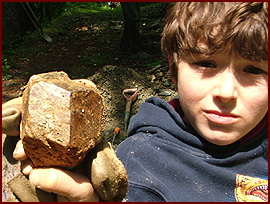 One of the best single garnets of the day
was found by Dave and young Zach
Bottom, new SAMS members.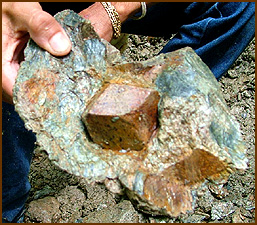 Zenon Alonzo and Roger Grinell recovered
excellent matrix pieces from the spoil
piles, including the one shown above.
Before quitting to head home, those who had chosen to dig next to the two-track road made sure to fill their holes and grade the area to ensure proper access by the owner to the upper pasture. Success at the Little Pine can be measured by the weight of your bucket and I saw just about everyone straining to carry theirs back down the hill to their waiting vehicles.
The following picture shows some of the cleaned up specimens that Chrissy and I collected.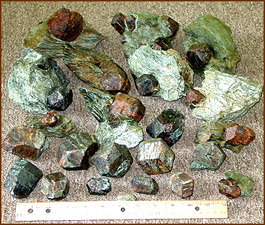 (12" ruler for scale)
A big thank you to Tom Winslow with the CVGMC for his excellent photography!
---
CLICK THE LITTLE MINER TO RETURN TO THE FIELD TRIP PAGE