The 42nd Forum on the Geology of Industrial Minerals was held in Asheville, North Carolina and was hosted by the North Carolina Geological Survey. It was my honor to help out with a pre-meeting field trip to the Nantahala Talc & Limestone Quarry. The advertised description of the trip was as follows:
"Climb aboard for a unique geological experience! This charter railroad train excursion will take you through a beautiful section of western North Carolina with scenic views of the Great Smoky Mountains National Park, Fontana Lake and Nantahala Gorge. The trip's destination is the Nantahala Talc and Limestone Company's quarry at Hewitt, an active crushed stone quarry in the Murphy Marble that was once mined for talc. This two and a half hour stop in the quarry will provide an opportunity to examine the geology, do a little sample collecting, and observe the mining and processing of crushed stone. In addition, lunch will be served during this stop. On the return trip the train will stop at two additional points of geological interest." (from www.geology.enr.state.nc.us/)
The excursion was attended by geologist, engineers and spouses from all over the country and world. But rather than prattle on about the very successful day, I'll let the following pictures and captions tell the rest of the story.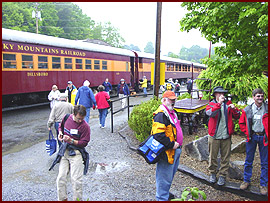 Getting ready to board the Great Smoky
Mountains Railroad's train in Bryson City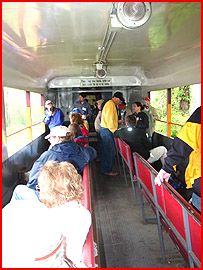 Co-leader & NC Geological Survey's
Carl Merschat (upper left) talking geology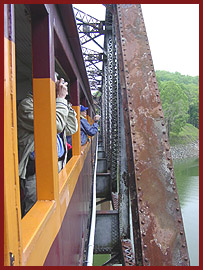 Crossing over Lake Fontana
at Almond RR bridge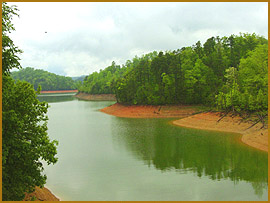 Lake Fontana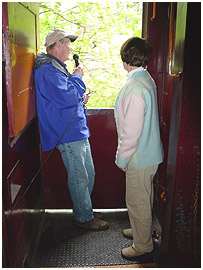 Carl and Holly Merschat
(many spouses attended the trip)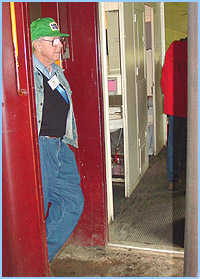 NC Engineering Geologist
and co-leader Don Hathaway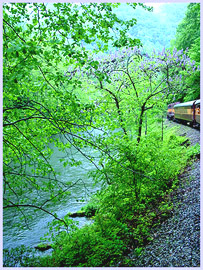 Nantahala River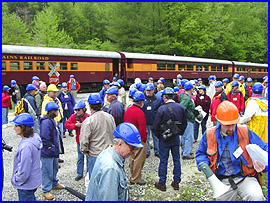 Group gathers at Nantahala
Talc and Limestone Quarry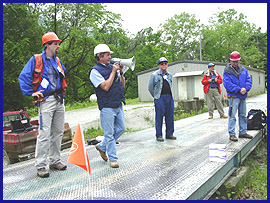 President Jack Herbert
welcomes the group to his quarry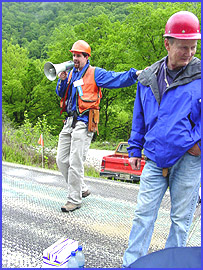 Co-leader & NC Geological Survey's
Bart Cattanach talks geology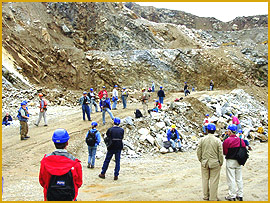 Carl Merschat talks geology in quarry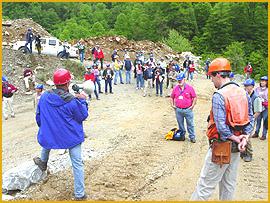 A crowd gathered before Carl
turned them loose to collect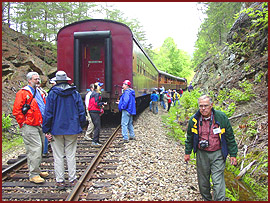 Stop the train, there's
geology in them thar hills!
---
CLICK THE LITTLE MINER TO RETURN TO THE FIELD TRIP PAGE