How well do you know some of your rockhounding locations? Really knowing a location in the mountains can take many years and miles of walking. My first trip to Chunky Gal Mountain was over 25 years ago, damn, has it been that long ago!? The Buck Creek area has more corundum than any location of it's size in the Nation! Would you believe on our first trip to the Gal, all we brought back was quartz! We still bring back a few pieces of quartz, but now I know the difference. Several years ago, Alan Plante sent me an email asking how many of the 30 minerals he had listed could be found around the Buck Creek Corundum Mine? I looked in some of the old books and sent back my reply. I told him everyone on his list and about 30 or 40 others, but I could only identify maybe a little less than 10. Things haven't improved very much, my identification list might be 20 or so? The "Old Gal" has been a very "patient teacher" with this hard headed student! My first trips to this area included maps, compass, GPS, and prayers that I could find our way and not get us lost, and if luck would have it... a small piece of corundum!
Well, have I learned anything over the years? I guess so? I don't need a compass, GPS, or even geology maps anymore... would it surprise you to know that geology maps of this area has many mistakes!? Corundum is now easy for me to find, the problem I had on this trip was finding quartz! Come on with us, I'll explain on the way... let's go look for the Number9!
Sunday morning broke fresh and clear with just enough chill to make a light jacket feel good. The old creek was still "talking" as it made the slow trip down stream to the Nantahala. Pat had the coffee brewing and breakfast was smelling mighty good! My thoughts were, if the good Lord made anything better... He kept it for Himself!
The plan for the week was to look around the edge of the Dunite and work a few of the border veins and a day or two looking over the green rock. I guess I have you lost and we haven't even left camp yet!? Let me try to explain a few things before we get started, this won't be "Ist talk" so maybe most of you will understand it! Ha!
This simple sketch may help?...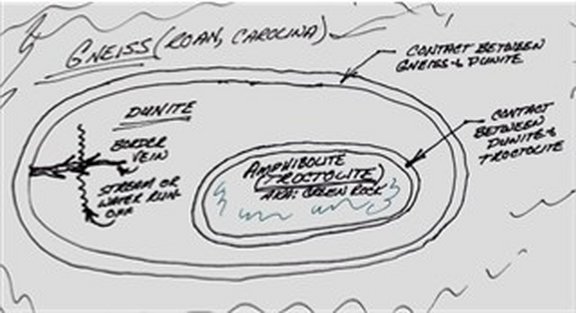 Between the Gneiss and Dunite you will have mostly dirt because both formations will be deteriorated at the contact and void of rock. This border zone must contain corundum, most of the time it is "sand corundum". If the border doesn't contain corundum you will not find it in the vein, because it first forms in the border zone before it sneaks into the Dunite through cracks, faults, and voids. This vein is mostly feldspar. Corundum is not found "IN" Dunite, it is "NOT" a matrix for corundum.
You can also find corundum in the contact between the Amphibolite(Troctolite) and the Dunite. This zone is also deteriorated, void of rock. In this zone you can find pieces of corundum in nodules, most will have a green/blue outer coating, this is part of the Amphibolite which is harder as it transitions from rock to mineral. You will also find pieces of corundum coated with Margarite (white, pinkish, or yellowish gray) in this zone.
The Amphibolite (Troctolite) "CAN" be a matrix for corundum. This is a "hit or miss" thing, as most areas don't contain corundum. If you do find corundum disseminated in the "green rock", 90% of the time it will be white, pink, or red.
This small lesson on corundum formations only took me about 5 years to learn and another few years to be able to identify the difference between Gneiss, Dunite, and Amphibolite (Troctolite) in the field! You can read about it in a book, but until you see it in the field, only then will you fully understand!
Our first hunt will be in the veins coming from the border of the Gneiss into the Dunite. I have found several water run-offs that parallel the border. This will have the corundum veins cutting across the water run-offs making them easier to spot and also give you a chance to find pieces that have been washed out of the vein(float).
When we arrived at our normal entrance point we discovered that the Forest Service was conducting a "fuel reduction" in this area, this made it impossible to reach the search area, which is a spring run-off.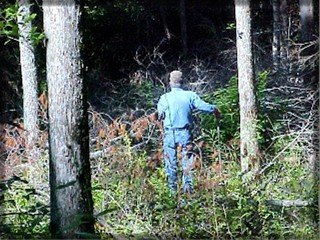 We lost about an hour going around to the "back door", or other end of this run-off. This end is thick with mountain laurel, but it was the only easy way to search the small ditch. Pat said "hello" to an old friend that guards the entrance to our search area, a large hemlock tree.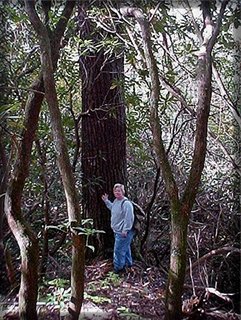 All the waterways that we saw on the mountain were dry or only had a small pool of water every few yards. I have never seen it so dry on the mountain! I like the water running, this makes it a lot easier to spot veins and to wash any strange looking rocks.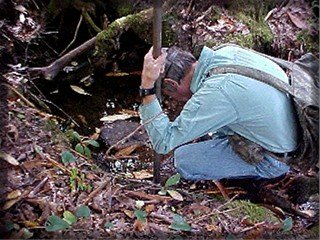 As we worked our way up the wash, we found only a few pieces of corundum which looked to be float from veins further up on the mountain. Some of the veins on this lower side are void of any good material, if any at all. We have found several nice pieces at the top, three have been red and a piece that was tri-color. This was the stopping point because of the "fuel reduction" by the Forest Service.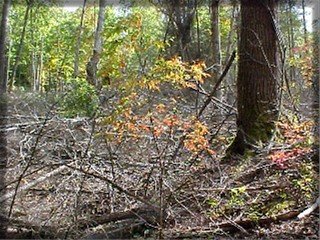 Pat did find one small "ruby" at our stopping point... as if to say, "I'm still here"!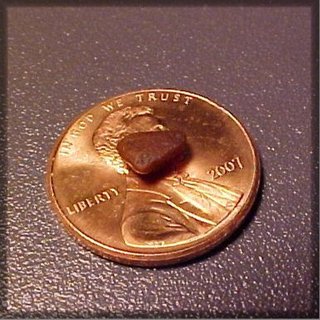 The next morning we decided to check a different location on the south end of the Dunite formation. This area has produced several pieces of corundum in years passed. We had been looking for about an hour with no luck in locating a vein of any size. This top area isn't wash-out enough to be able to do a good search.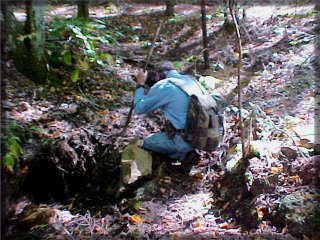 We stopped for lunch and to get a cup of coffee before going any further. Yeah... coffee will make me smile!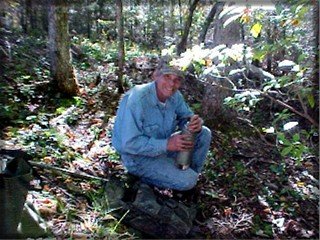 I knew from passed workings that the bottom veins in this section had more than just a few pieces of corundum. I had been digging only a few minutes when the titanium pick hit something hard... and a loud "ping" told me it wasn't quartz! I pulled the muddy stone from the hole and turned to wash the mud off so I could take a look, I knew it was corundum by the weight and the size would be about 3"X2 1/2"X1 1/2". What I didn't know was the surprise that I was about to receive! It was solid blue! I've never found this color anywhere near this location!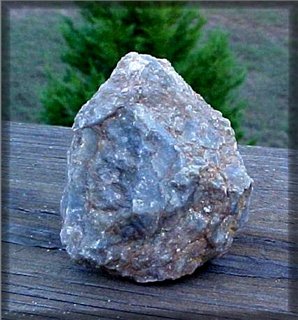 The vein hunting that we did turned out to be a good two days. This is a picture of some of the typical pieces that we found. The piece in the front of the picture isn't blue, it's the reflection of the sky above. The piece in the back is corundum with the feldspar still attached.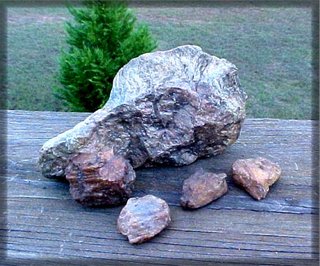 Pat wanted to make a trip to the "Garnet Store" for several small pieces to give to her co-workers. This area is known as Deep Gap. It only took 30 minutes to gather a 5-gallon bucket half full!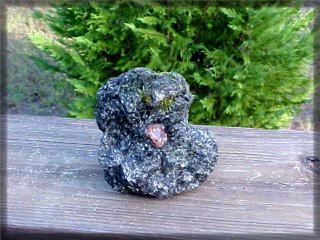 The week was going fast and we still had the "green rock" to look over! The formation that we planned to search is the second largest in the neighborhood. It's over 1,000' long and about 400' at it's widest point. This Amphibolite is know as "Troctolite" and has given us many surprises in the past. They also had a fuel reduction over part of this formation, but the downed trees were burned last year. Knowing that our normal path would be blocked, we took an old route that would take us outside the Dunite and into the Gneiss. Back many years ago, we walked the same path and not knowing better I spot-checked for corundum. I didn't find any corundum in the Gneiss, but I did find clear points called quartz! As we made our way up the path, I spot-checked again to see if I could locate the deposit I'd hit many years ago. I was having a problem this time finding quartz! This wasn't a problem when I first started looking for corundum! Ha! I did find part of the deposit after several test holes. but the pieces weren't as good as the first ones we found, many of them at that time being "water-clear". Here is pictures of the pieces I found... but don't tell anyone that I was hunting quartz!!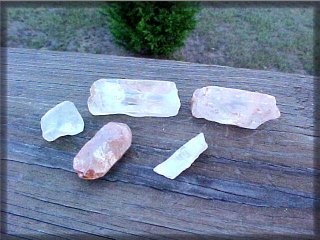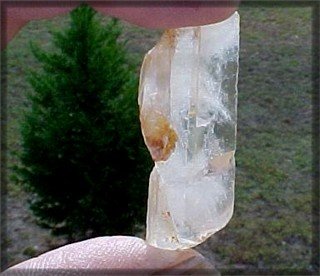 It was still early morning when we reached the edge of the Green Rock formation, we looked around some before starting our search in the burned mess left by the Forest Service.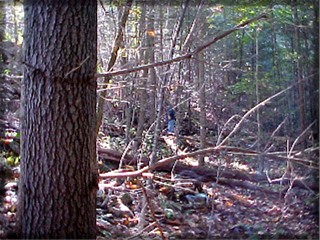 We hadn't been in this section in about 10 or 15 years. The area looked a lot different with most of the trees gone! I had to take several looks to make sure I was still at the right location, but being able to see the mountain tops better with the view no longer blocked, made our location on target. We hit a small patch of pink here many years ago that wasn't much over 50' square. This time was different, with no coordinates and burned forest, it would be luck to find!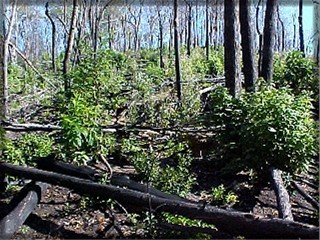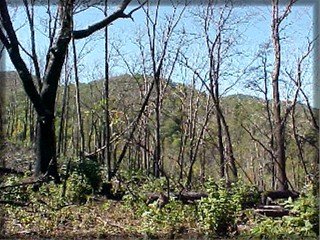 It was sad to see the area without trees, but I guess it had to be? The burned limbs put black stripes on us from our waist down which made us look half zebra. After only a short time we were a black mess! Pat told me I couldn't get in "her" Jeep looking like that! I told her it wouldn't be the first time that I had driven a Jeep in my underwear! That's all I'm going to say about that... so don't ask!
After what seemed like hours making a zig-zag pattern through the mess, Pat said.. "Lookee Here, I've found some pink"! Now you understand why I take "Hawkeye" with me! Yeah, I'm the educated one on corundum... but it helps to see! And yes... it was pink!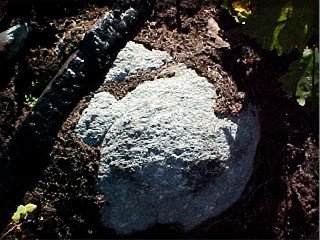 This one had twin 3/8" pink crystals, but it wasn't going home... they are on a two ton rock!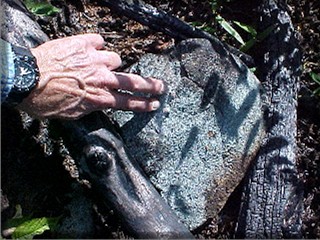 On the way back to the Jeep, we passed an old dig site where a friend had dug with us... you remember busting green rock in this hole, Mike? No it's not the same, but don't worry, the fire didn't hurt the rocks... they do live forever!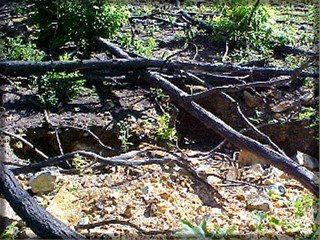 Here is a few pieces that was recovered from the charred land... A vein of pink runs the length ...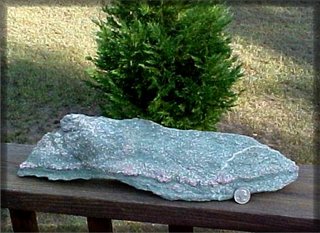 White feldspar and pink corundum on Amphibolite, you don't often see this combination...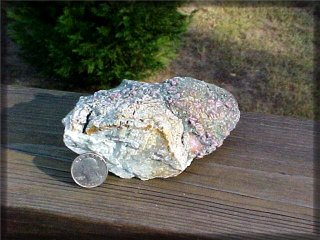 Three pieces from the same rock. May have been broken from a bulldozer that was working the "fuel reduction" project?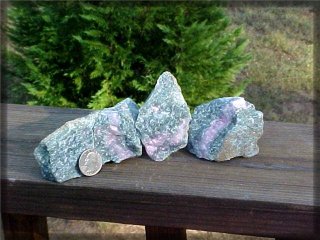 This piece was broke along the lamination of the rock showing a 1/4" thick section of pink corundum...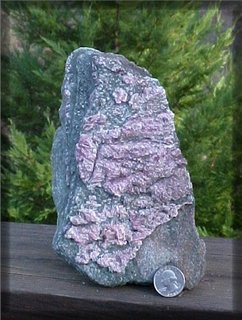 Yes, the "Old Gal" is a great teacher, if you want to learn more about the Number9...but be careful, she may not make you stay after school... but she could be the reason for making you drive back to camp in your underwear! All the best to ya!
CLICK THE LITTLE MINER TO RETURN TO THE FIELD TRIP PAGE