Jeff Deere and Bill Hayward joined Chrissy, Opal and I at Graves Mountain for a weekend of moving and busting rock. Our
principle desire was to find a monster pocket full of iridescent hematite coated goethite and/or quartz at least as good as a few others that we have discovered in the past. But, we'd settle for simply having a good time and not getting hurt.
While Chrissy wandered about the expansive quarry in search of rutile and other minerals, we men spent our entire time working a section of wall in the upper (East) pit. We moved many tons (literally) of rock and managed to find some minor pockets and vugs; while we never hit a monster pocket, much of the material that we recovered was excellent. Since digging, prying and dropping boulders do not make for a scintillating tale, I'll simply let the following pictures tell the rest of the story of a good and safe time that was had by all.
Bill Hayward on the wall




Chrissy proud to have tied her own shoe




Jeff Deere

Bill Hayward
The following pictures are a few of what Chrissy and I thought worthy enough to wrap up and take home.
(click on each specimen picture to enlarge
Graves Mountain rutile crystals are predominately associated with kyanite/pyrophyllite/quartz-rich meta-volcanic rock that runs through the center portion of the main or West pit. Rutile can also be found laterally in kyanite-rich rock, but these crystals are generally very tiny. On her never-ending quest for rutile, Chrissy managed to find some in rock composed primarily of kyanite - one of these is a beautifully complex whomper!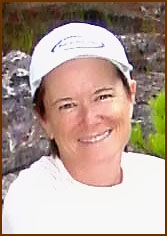 ---
CLICK THE LITTLE MINER TO RETURN TO THE FIELD TRIP PAGE