With all the talk of more and more quarries becoming closed to rockhounding, Harry Polly managed to find one just down the street from where he lives in Lenoir where no rockhounding had ever taken place before - at least not to our knowledge. Yep, a completely virgin location! When he told Chrissy and I that he had obtained permission to access the Martin Marietta Quarry and had scheduled a field trip there, we were all to happy to join him, but not because we had expectations of finding anything worthwhile, but just to hang out somewhere new with our pal. We have been in plenty of quarries over the years that were full of rocks but lacked any collectible minerals, so we were prepared for more of the same while maintaining our usual optimism.
We started out the day very early, having to leave home at 5:30 AM to meet Harry and the rest of the crew from the Catawba Valley Gem & Mineral Club in Lenoir at 7:00 AM. Upon our arrival at the designated meeting place, a nice turnout of about 25 eager rockhounds was already there, demonstrating that the Catawba club consists of many optimistic souls. We caravanned about 5 miles to the quarry office where we all signed liability waiver forms. We then proceeded into a designated section and received a brief safety talk from the quarry manager before he turned us loose.
Our collecting was confined to a couple benches, but there was plenty enough rocks to keep us busy looking, especially since we were required to be out of the quarry by noon. Since the quarry was new to all of us, everyone fanned out in various directions to search for any hint of a gem.
It took Chrissy all of about 15 minutes to find an interesting large almandine garnet specimen.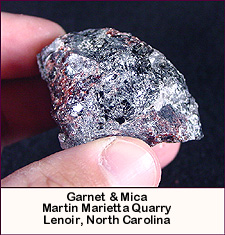 (click on picture to enlarge)
I wandered back to a pile of rocks that lined the backside of the bench. Rusty was also there and we discovered some decent prehnite lining the surfaces of some of the boulders. With the prehnite were some very nice and relatively large babingtonite crystals.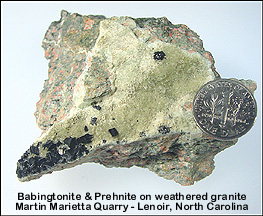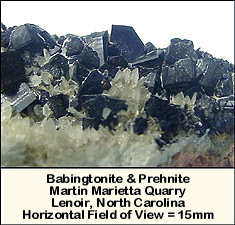 (click on pictures to enlarge)

Before long, word started to spread that prehnite was scattered throughout the quarry, but concentrated in an area on a lower bench. Bill Hayward was a happy man when he discovered a 300-pound rock covered in prehnite and small calcite crystals.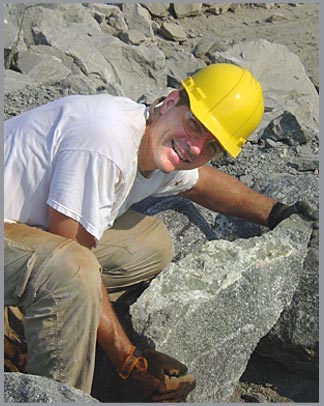 With the help of others, Bill managed to place the boulder in the back of his truck. Exactly how he would get it out at home was a something that he'd have to work out later.

As the morning progressed, a group of rockhounds migrated to a mineral-rich area laden with prehnite, epidote, calcite, pyrite and babingtonite.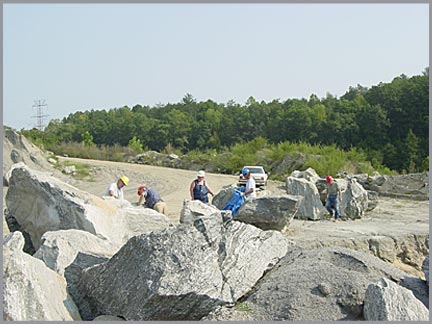 I employed my 16-pound sledge to do much of my dirty work, much to the amusement of Chrissy and George Max.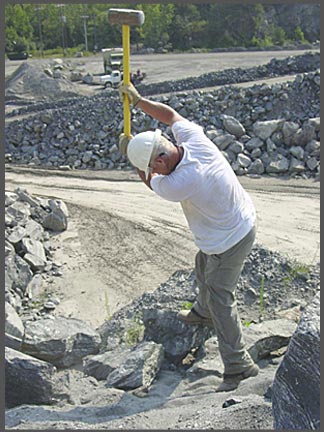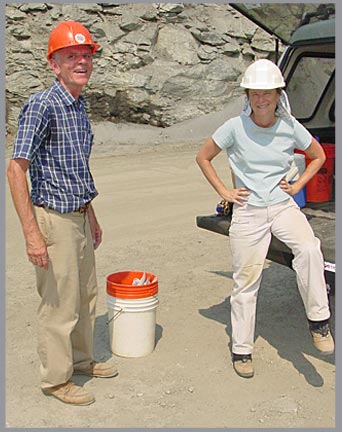 Just about the time that we were to leave, Harry Polly discovered something that he just had to have!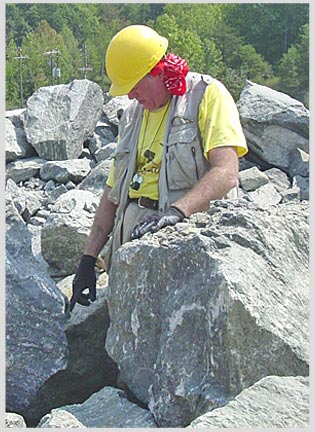 However, the problem was that his find was in a very awkward place in terms of using a hammer and chisel. Yoo-hoo . . . Mikey???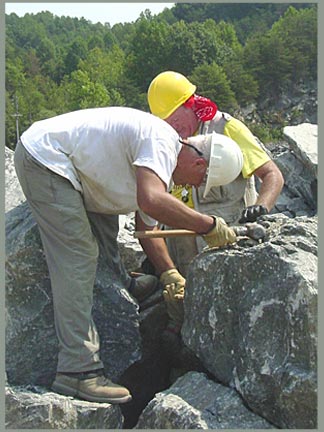 After a couple dozen whacks with my 6-pound sledge, we managed to liberate Harry's specimen and he was as happy as a cat with a canary in his mouth (fitting since he was wearing bright yellow).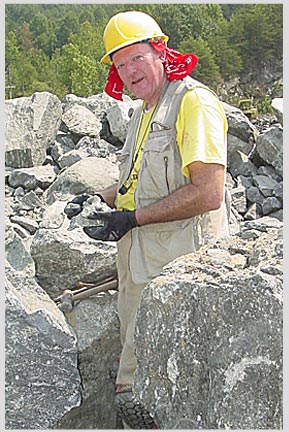 The few of us who were left, scurried out of the quarry just before noon. It was my observation that many nice specimens were found and that just about everybody who had come left happy.
The following pictures show a few more of the specimens that we recovered.
Click on each specimen picture to enlarge
Click on each specimen picture to enlarge
Hey Harry - You done good -real good! Thanks, pal!
IMPORTANT NOTE: This quarry is active so you should not expect to simply show up off the street to rockhound there. Prior permission to collect is required. However, it is my understanding that the manager would prefer to work with Harry Polly since he is a known local and too many phone calls from strangers may ultimately jeopardize access to the quarry. Your best bet if you would like to collect at this quarry is to stay tuned for the next scheduled trip by Harry and the Catawba club and ask if you can tag along.
---
CLICK THE LITTLE MINER TO RETURN TO THE FIELD TRIP PAGE