As part of the McRocks annual cookout and rockswap event that took place on Saturday, July 7, 2007, I led rockhounding field trips on the preceding two days. Thursday's excursion centered around hunting kyanite in the steep mountainous terrain above and beyond the Ray Mica Mine in Yancey County. As a result of metamorphism, kyanite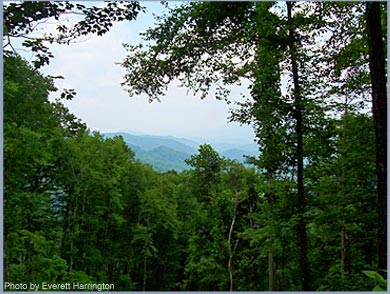 is known to exist in an area that extends from near Burnsville to Black Mountain. The blue mineral may be found mostly as widely scattered float, but also in-situ in a few known locations, including an abandoned kyanite mine.
Being in good physical hiking shape was a requirement for this field trip as we had to climb about 800 feet elevation in only 3/4-mile to reach the top of a ridge and then hike about another mile over uneven terrain to reach the old mine workings. Everett Harrington was there to help point the group in the right direction with his bandaged cut finger. I won't say how his finger was cut, be let's just say he got a little too close to the business end of a chisel that was being struck with a sledge hammer by a certain local geologist . . . ouch!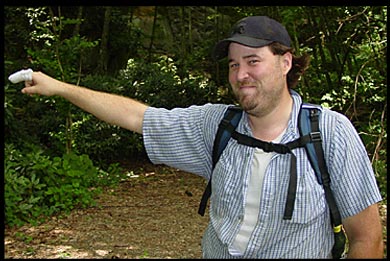 Everett Harrington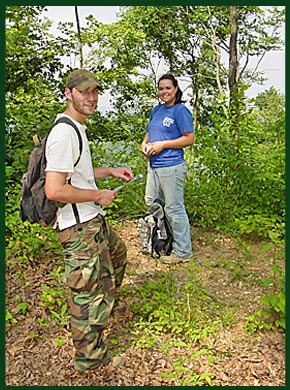 Ethan Martin & Jenni Wise
After finding a few choice kyanite rocks along the way, we arrived at the mine.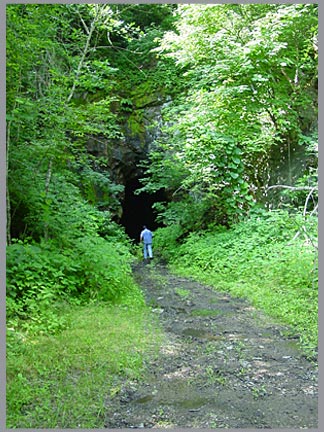 Adit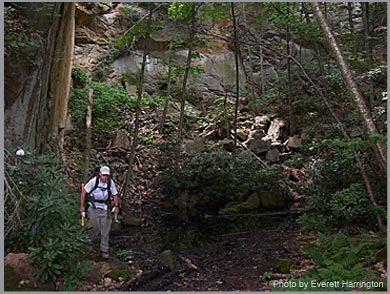 Open Cut
I led the group into the dark mine; we avoided the water-filled bottom by picking our way along the adit sides.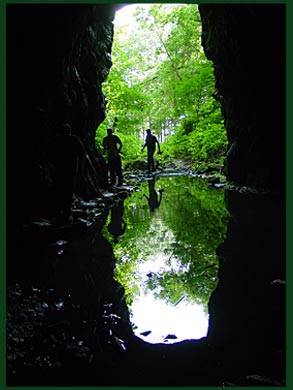 Adit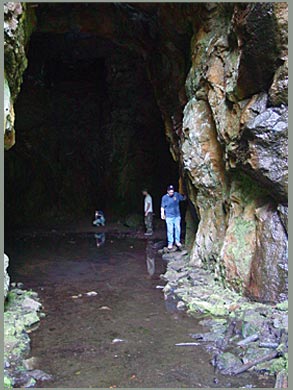 Adit
The temperature inside the mine was a refreshing 20-degrees cooler than outside so it was a great break from the heat. None of us had brought a flashlight, so we didn't venture past the natural light that filtered in from outside.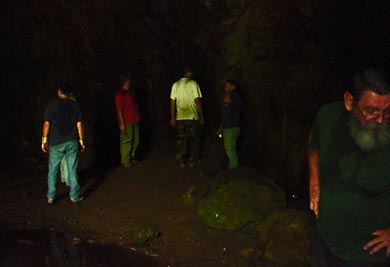 McGhosts
Everyone managed to find some kyanite along the way. The following pictures show a few specimens of what I dragged back home.
By mid-afternoon, we bushwhacked our way back down the mountain to the Ray Mine spoils. Somewhere along the way, Ernie Walker found a large flat rock that contained relatively-fine grained kyanite in mica schist that he just had to have. So, he and ever-generous Everett took turns toting it down the mountain. Both were real glad to be able to put the rock down and take a break when we made it back to the Ray.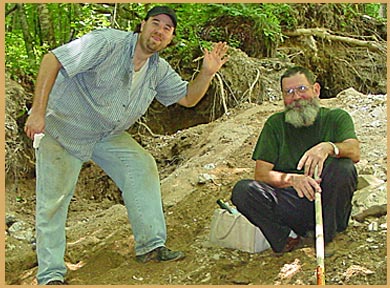 Report continued . . . . . . .