Many areas are over-looked by rockhounds even in a popular location. Buck Creek is the heart of the corundum deposit on Chunky Gal Mountain, yet many of its areas go untouched.
Our plans prior to the trip was to prospect in the areas of Standing Indian and the Cartoogechaye range on the eastern side of the Gal. Working to much over-time and working on the new trailer cut research time of that area and we don't like to visit places without full info and maps of the search location! Prospecting a new area is best in the winter months anyway, so a future trip may be planned around the first of the year.
Pat had to work the Monday before we left and I came home that Monday morning after working all night without sleep. So I took a nap and when Pat got home that afternoon we started loading the trailer and Jeep for our trip. I didn't say to much about all the "stuff" Pat had pulled out to be loaded, but I was glad I put the larger 3,500 pound capacity axle under the trailer and not the smaller one!
The next morning before daylight we left and even after checking everything over several times I still had worry about pulling the trailer. This was a very good test for the trailer having a full load and it made the trip without a single flaw!
Buck Creek was frosted over when we pulled in and I told Pat to let me know when she had the camp setup that I'd stay in the warm Jeep drinking hot coffee. Well, it was a good try anyway! This is the same location where we camped last October, it's a good site to setup a base camp. From this location you can be where 90% of the corundum is in the United States in less than an hour.
This first day was spent getting things setup. We placed the tent opening at the side door of the cook tent and this worked out much better, like having a two room house!
If you plan to camp in the mountains in the cooler months for a week or more, just a single tent may make your stay a miserable time. You must think ahead and be prepared! "Rough'n It"...yeah, right!
This trip was for cool weather and not cold weather. Only 80 pounds of propane was taken and one heater on this trip. No, I don't want to hear your stories about rough'n it! I don't remember seeing you on the Gal back in second week of January '98, in your pup tent, cooking beanie-weanie over your Sterno with the temps in the single digits!? Humm? Come to think about it.. we didn't see anyone camping and rock hunting that week besides us! You must have a place to move around in when the weather turns bad, sitting in a tent all day isn't very much fun! You must be able to prepare a good meal, you can't run on empty for very long. Sleep is very important! It needs to be equal to your home. A hot shower and a sheltered toilet makes things nice... a bath in Buck Creek is a little cool in October!
Well.. we could stay in camp on this cool October day and eat Pat's homemade vegetable soup and fresh skillet corn bread hot out of the oven...
...or we could look around places not visited very much by many of the hounds at Buck Creek?
Yes, our hobby is a little different than most, the way and where we rock hunt, the way we camp, the equipment we've made and use, it's not wrong... just a little different! So, if you follow us you may discover your on a different road! Which road?
Road less traveled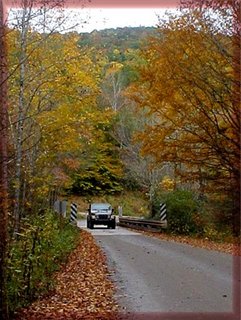 You ever wake in the morning and thank God that you're alive, October 15 was such a day! We rolled out about daylight, got dressed, and I turned the weather radio on to see what the day would bring, "...transmitting from high atop Joanne Bald Mt... clear today with a high in the upper 60's...". Sounded good! I told Pat I was going outside to see if "it" was still out there...and it was.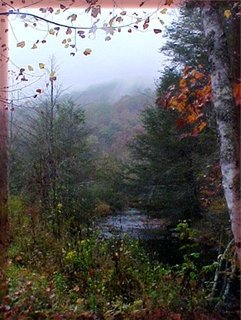 The light jacket didn't prevent a cold chill from going up my back in the 30 degree morning but the cup of hot coffee that was smoking like a tar kettle made up for it. Mist and fog was down on the mountain but would be gone soon. A short look around before Pat said, "Breakfast ready" She wanted to make sure we packed her 1/4" screen to try and find another ruby at the "yellow site". She had found several in the past and even gave one to her "Boyfriend Tom"! I don't know how many other boyfriends she has but when I said something about going there, I received a fast "OK" and not the normal "it don't matter"!
After breakfast we took a short trip over to the gated road, FR 6269. This road goes above the "Big Shaft" also known as the Buck Creek Corundum Mine. A look back showed the Sun starting to look over and begin lighting-up the mountain.
We don't move very fast anymore, well we've never moved fast before either! We stopped several times just to rest and look to see how things had changed in the last year and to take a picture or two. Pat doesn't like her picture taken but this day was for her so a few had to be made!
At the high point of the road, I could look over the Big Shaft below and across to Corundum Knob.
I'll tell you something that the normal rockhound that visits this area would never guess. The NF has had a controlled burn called a "fuel reduction" in this area for the last two years. The location and limits to this burn was given a lot of thought by the Service. The burn covered about 90% of the formation where corundum could be found. Being a rockhound area, they left the two main sites untouched that being Corundum Knob and the Herbert Mine. Most of the burn was stopped within feet of the formation, I believe this was done to slow or stop digging by rockhounds in this area!
We dropped off into the burn area and headed to the large hemlock that marked the spot. Pat wasted no time screening the dirt looking for "red"!
Pat didn't find any ruby this day even after sifting a lot of dirt, everything she found was yellow which is the main color of the "Yellow Site"!
With about three hours left until "dark-thirty" we made our way back to the road. I told her we still had time to look around so we decided to walk along the top of the ridge and come out on the old logging road above where the Jeep was parked. Across this ridge is the edge of an amphibolite formation that runs parallel to the ridge before dropping off down to Buck Creek. Most of this narrow formation is void of corundum but you can find nodules along the contact with the gneiss. This area is mostly dirt with a few section of feldspar and small pieces of corundum. After checking some old scratchings we came out on the old logging road... and found a GRAVE!!
Lucky, no one was home... YET!! What started out as a small dig has increased to a death trap!! The hole was about 10 to 12 feet deep under a tree. I love to dig corundum but I don't dig a hole to kill myself or others!
A large sifting screen was left behind to also mark this spot as a "dumb-ass" site!! Hey stupid!! This is a contact area, the ground is VERY unstable, you're lucky I didn't find just your boot sticking out! This is another bullet to put in the gun to shoot down the rockhound! I'm sure the next controlled burn will be above FR 6269... DAMN!!
The next day we visited an old site and the only reason I'm even talking about it is because it's located less than 100 yards from the main road. But you say, so is Corundum Knob, and the Herbert Mine (from Perry Gap Rd.), and the Big Shaft, so what!? The difference is... "The Old Man" never has any visitors! I've only showed this site to Bobby and Linda Bentley about five years ago during their visit to NC and I think we've only visited him one time since then?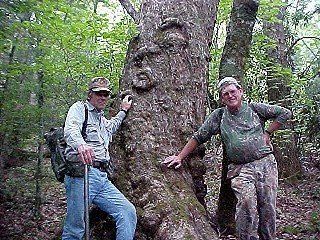 The "Old Man" is a large oak tree on the way to a small outcrop of amphibolite. This outcrop is the smallest of any size in the Buck Creek area and with no activity I would say totally overlooked... well, almost!
So, I guess with no visits from rockhounds, it must not have any corundum, right? Well, it might have. "
This location is considered to be the most promising in the area of Buck Creek.
"- BLM. But, you can't believe everything our Government has to say, can you?
The formation has two main cuts and two smaller ones. The lower main cut goes from the dunite and stops at the amphibolite that has almost a vertical dip.
The upper main cut located about 60' away also stops at the same wall of green.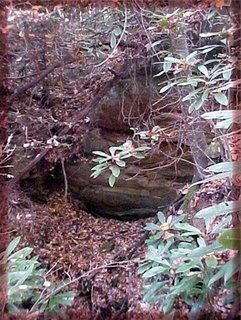 Between the two main cuts, along the edge of the green rock is said to have a 4' thick section of feldspar that dips next to the rock which contains a considerable amount of corundum. Pieces on the tailing pile that we've seen seems to indicate this could be true? An old friend at this site is this large green rock...
..it would look good in the yard after a good cleaning. That way you could get a better look at all the corundum it contains! I removed this small piece from it's edge over 15 years ago.
We usually just look around the two smaller cuts that was made in the green rock many years ago and kick out a few pieces just to take home.
So, if you see the "Old Man" he may not tell you the way you need to go... and if you see the other old man, I don't think he would talk much either!