I know I've been rather absent for a while, but you know me – too busy w/kids and now work. I just started full-time instead of three-quarters. Sometimes I wonder why I'm doing this and then I think of school tuition and I remember why. And I remember I've been blessed, given the current economy, even on days when I wake up and don't want to face the day at work. Oh well, such is life.
One thing that was really fun and work-related is that I was sent to a flow cytometry training conference in June that was held in Albuquerque, New Mexico. I decided to drive there, since it was so close and I wanted the freedom of having a car available. And, after a bit of searching, I found out that air fare from Tucson to Albuquerque one-way was just $69 dollars. So, on Thursday my husband flew out to join me and we drove back over the weekend via the scenic route. Boy it is nice to have kids old enough that they can be on their own for a weekend (with a checkup from an uncle, lol).
First stop was the petroglyphs at Petroglyph National Monument.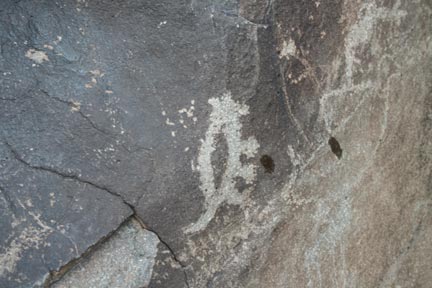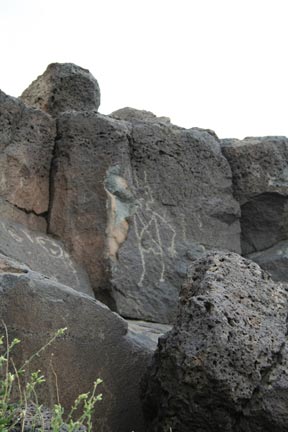 Most of them aren't big, but they sure are neat. You would expect them to be out in the middle of nowhere, but they are actually right on the edge of town. The view from up there is pretty incredible which is why they believe the petroglyphs came to be. They think shepherds would go up there and while they were watching the flock they'd get bored. At least, that's one of the theories.
We decided to spend the weekend in the White Mountains of Northern Arizona. This area is full of pine forest, elk, lakes for fishing and a number of resorts. I wanted to stay in or near Alpine, because this area is near Luna, New Mexico which is known for its blue agate. So my hubby made a reservation at a delightful little cabin in the woods known at the Deer Dancer Cabins. No resort frills, just peace and quiet in the woods – nirvana!
On the drive over we passed by the VLA (very large array) which is one of the biggest radiotelescopes in the world. I wonder what kind of reception you could get with one of those huge dishes, lol. Then we stopped at a road cut on 180, just past Luna and just a few miles before the Arizona state line. At this roadcut you can see the white mineralization tracing through the host rock.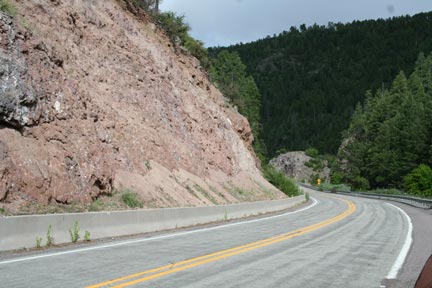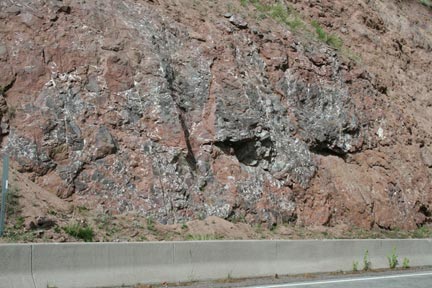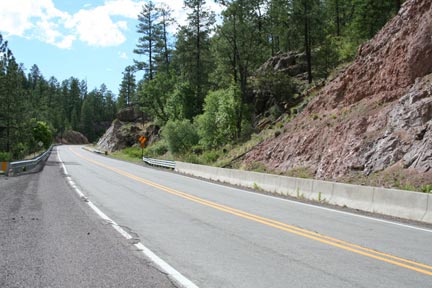 In this area, calcite, common opal and agate are found. I am a pretty lazy rockhound – this was perfect for me because the goodies erode out of the rock and you can just pick them up at the base of the cut. We only stopped for a bit on the way there because we wanted to find the cabin before evening.
Here are pictures of the cabin – everything we could have hoped for! Queen size bed in the loft, kitchenette and shower below, with a sofa that folds out into a bed and a rollaway if we decide to bring the kids next time.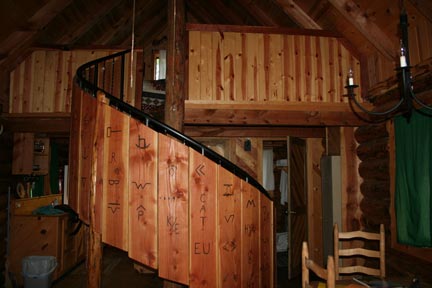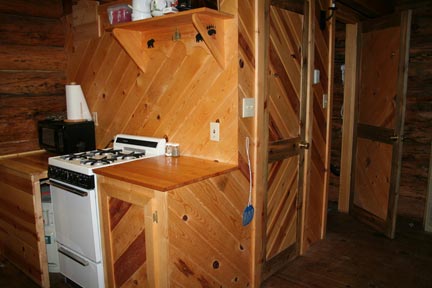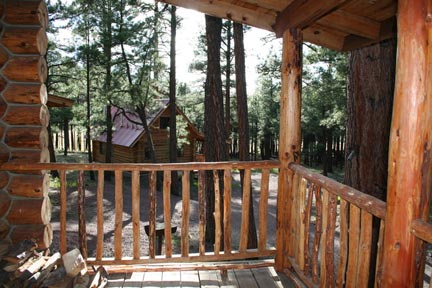 The next morning we decided to explore the San Francisco river just off of 180 as it cuts through the Apache National forest. We started at the bridge and went north. Where the bridge crosses, the river has cut through the rock forming a small canyon.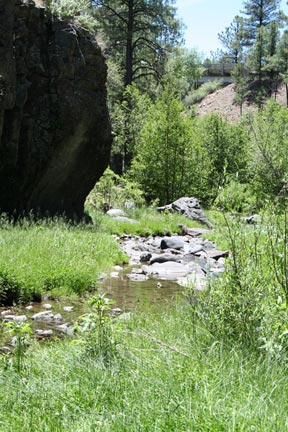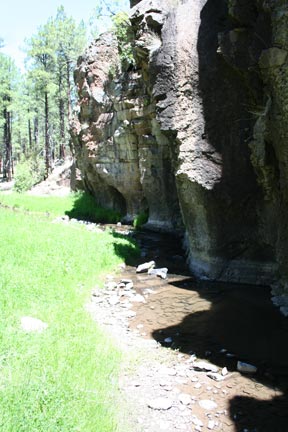 We saw signs of elk, deer and racoon, which had apparently been feasting on the crayfish that were everywhere. Too bad the crayfish are considered a pest as they aren't native and they eat the fry of native fish. We even came across a deep hole that contained an apache trout, one of the few native trout species in the US. Along the shore, there were still wild iris in bloom.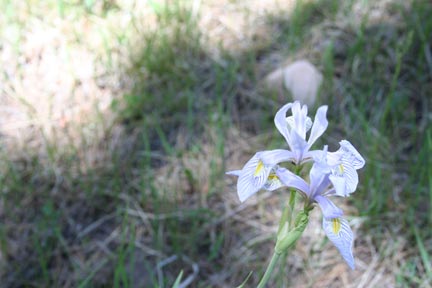 Then the river bed opened up and passed thru a high alpine forest meadow.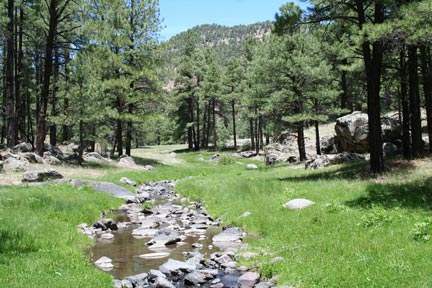 We followed the stream a bit further, not finding much until I came upon traces of chalcedony from a dry creek bed that apparently drains into the river. We followed the bed upwards for about a mile or so, but we didn't find much in the way of agate. I found a few quartz clusters that were nice, especially this little thumbnail specimen that consists almost entirely of tiny scepters. Or would this be considered a micro? The last two images are thru a magnifying glass, but I didn't quite capture the little scepters.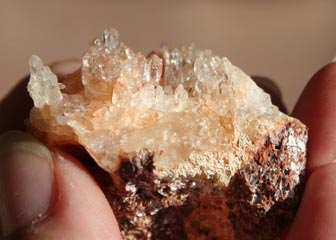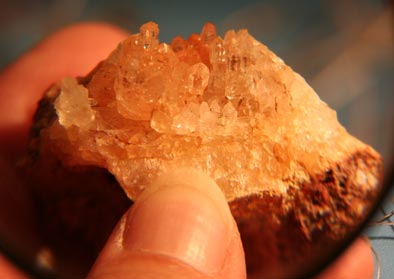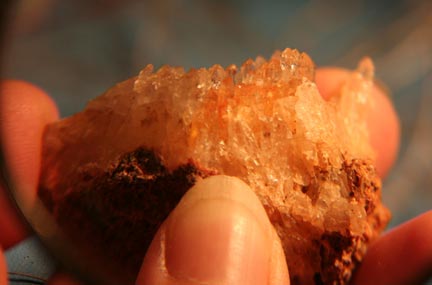 My husband found this lovely point that I really couldn't capture on film. It looks milky in the picture, but up close it only has a hint of milkiness and more than anything looks opalized.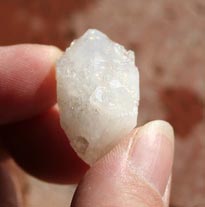 Is it possible for a crystal to be opalized? I did find a small piece of jasper reminiscent of Bruneau Jasper, but no other jaspers to speak of.
I also found this specimen that looks like a pair of calcite crystals, but feels like quartz – possibly a pseudomorph? The base is definitely quartz, and I tried to scratch a tiny place on the top with a quartz crystal and couldn't, but I was trying to be careful and not damage it. I have really got to get a set of points one of these days!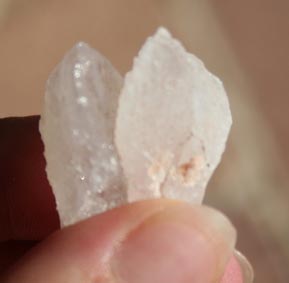 Then we went back up to the roadcut and poked around a bit more, but I didn't want to stay too long as my hubby is not a rockhound but is sweet enough to indulge me. We then explored a bit of the shore of the local lake, and watched the chipmunks beg for handouts, the ducks swim by and the elks grazing in the distance. I love the kids, but sometimes you just have to have a romantic getaway for yourself.
Here are all of my roadcut goodies.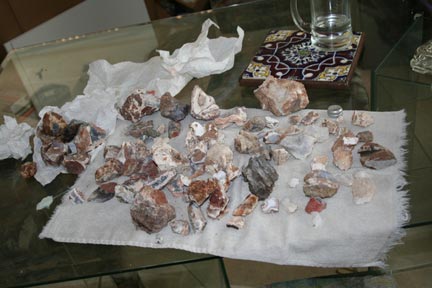 The seam agates are quite nice and some of them are opalized. Or is the opal agatized? You can see some interesting mineralization in some of these pieces.
Here are the more traditional agates, some with nice blue or blue-grey color and lovely bands. As you can see, one of the agates has nice dendrites in it.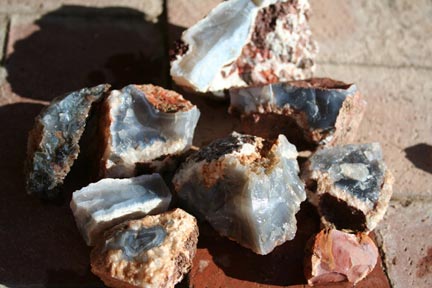 There are several other spots around alpine recommended for agate hunting, but we'll have to save them for another trip in these cool mountain forests, when the heat down in Tucson makes us long for the scent of pine, the sound of running water, and cool night air.