Hope everyone had a great Thanksgiving Day. I brined a turkey for the first time and it came out perfect! All the talk of Facebook lately, I've realized this site is my online social network fix. Lol, I wrote a whole paragraph about brining, but cut it. Onto the rocks...
I figure a lot of folks have experienced something like this. It started with the vague "I should to go somewhere Sunday." Then Saturday "Yeah, I'm going somewhere tomorrow", and made plans with the family to get up early and be back by mid-afternoon. Part of the family's plan was to cut down our Xmas tree and decorate Sunday, so I had to accelerate this by a day.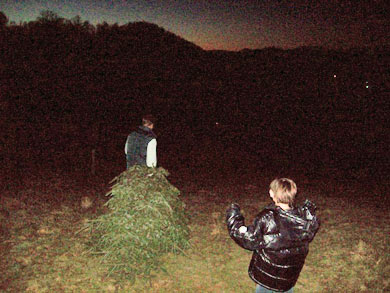 I ran the pros and cons of the two places I could visit Sunday thru my head all Saturday night. The Ray can be sooo hit-or-miss and I've missed a lot lately. The other site had more pros, but something told me that it didn't matter, I had to go to the Ray Mine. When I got in the car early Sunday morning, I thought about it again, trying to tell myself I was worn out last night, I should go to the other place. But one of the strongest feelings/intuitions/voicesinmyhead I've felt in awhile said, "No! Go to the Ray". So I went, and pulled in right at 9am. Mutt wagged his tail as I drove by and came up to get some of a left over biscuit. A good omen!
Had a bright idea I tried out from something I saw on another field trip report. Its always been a pain in the ass carrying a bucket of shovels up to the spoil area, and then lugging down a bucket of shovels and many rocks. I thought I'd bring the heavy stuff up in a cart. The only thing I had that would fit anything and had wheels was an old cooler. It had tiny wheels and no bottom clearance. Lol, it was a much bigger pain in the ass. Anyway, at a certain point, intuition said drop your stuff and down to the creek. It was the spot I'd found my first beryl crystal on my first trip.
I got to the creek and started looking around. Look closely at the following pic.
When I first saw this it looked much greener, and I debated about actually bending over and picking it up (I honestly almost didn't), it looked just like a leaf). The pic doesn't do it justice, but its 1"x2/3"x1/2" of gemmy blue aqua. No stress fractures! This is the first piece I've found that I believe may actually be able to be faceted. I'll be looking into doing something with it for an upcoming anniversary.
After finding that, I decided I should check this area out a little more thoroughly and brought the gear over. I used my hammer's nail puller end to turn over rocks in the creek and 20 mins later dug this out. Pulling this out was like catching bluegills all day and then a 6lb small mouth bass hitting my lure!
I've seen other folks find crystals with this deep blue-green color and I've got a few tiny pieces at home, but nothing this size. For me, these 2 pieces were a huge fulfillment.
Here's 2 other minerals found in the same area, and because I have many of these at home and had no backpack to put them in, I left them for someone else to find. A really nice thulite (notice the difference in this and a dusting of small garnets) and an apatite.
Here's a few other beryl crystals found in the same area. The first is a neat non-stress fractured aqua with partial rust staining. The other 2 are the light blue color typical of that matrix.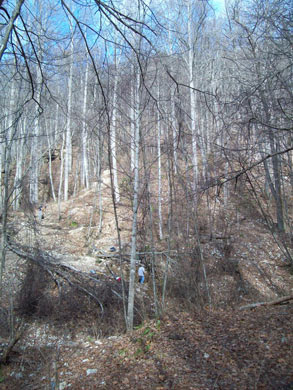 Those were all in the first 2 hours. I finally had to take a break, drink some water and eat a sandwich. Here's a pic of the main spoil pile. That advice last year about digging by the fallen tree is kinda funny now, lol. The fellow in the white shirt is digging near the center of the spoils ("Working off my Thanksgiving dinner," he said.), the fellow in the black shirt is at the huge collapsed part of the mine and foot of the "trail" to Mas-Celo. To the right thru the trees you can see more spoils going up the hill. The area the McRocks group dug is on the far left out of the pic.
On the way back to my gear, I talked to a nice fellow and his wife who were visiting for the first time after going to the Crabtree Emerald mine the day before. I told him what to look for and gave him a piece of apatite I'd found and thrown in my backpack. Then I asked where he was from. "Ontario, Canada," he answered. "Oh, what part?" I responded. "Bancroft. We've got apatite there," he replied. "Yes, you do," I said. And much better than Ray Mine apatite, lol. A comparison of Bancroft, Ontario apatite and Ray Mine apatite..
(left photo by Mike Streeter)
I got back to my gear and looked for more beryl. Unfortunately, it stayed hidden, but I did find this neat piece with mostly whole garnets.
And then I looked down to see where to take my next step and saw this Ray Mine native, who was just hanging out on a beautiful day.
This is an eastern garter snake. Not what I expected to see, but it was in the 60s this Nov day and you will see garters, racers, and other diurnal snakes out on warm winter days. He was extremely lethargic (from taking a break from hibernation) and didn't move until I lifted him off the ground. He's harmless and makes his living off the abundant salamanders. Pretty cool find for me, the reptile lover.
Thanks for a great afternoon, Ray Mine!