Recently, I had the opportunity to purchase Guide to Mineralogy of the Laytonville Quarry, Mendocino County, CA by Charles Chesterman. Although written before the concept of plate tectonics, it still provides a great opportunity to understand the mineralogy of this fabled quarry.
Having visited the quarry in December, 2009, this guide has helped me to understand the minerals found within the quarry. It also verified that this indeed is the fabled Laytonville Quarry where three unique minerals are found: Deerite, Howieite, and Zussmanite.
The quarry is located approximately 5 miles south of Laytonville on the northeast side of US 101. The mindat.org coordinates are wrong, 39į55'0"N , 123į27'3"W, and point to an area north of Laytonville, located near the Eel River. The actual coordinates are: N 37 37.069 W 123 27.732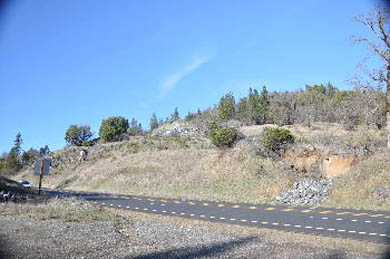 Quarry View / US-101
First worked in 1957 by the California Division of Highways to provide riprap along the nearby Long Valley Creek embankment, over 91,000 tons were removed. Interestingly enough, the highway department refers to this area as Hellís Half Acre due to this area being a large, mostly intact landslide.
Geologically, the rocks are metamorphosed Franciscan rocks. The glaucophane rich blueschist are indicative of high pressure- low temperature metamorphism. The rocks had been subducted and then later thrust and eroded back up to the surface. Unaltered Francican rocks are present in the area surrounding the quarry, giving a sharp contrast with those found at the quarry.
Within the metabasalt can be found the following minerals:
Glaucophane
Pumpellyite
Clinozoisite
Chlorite
Phengite
Garnet (spessertine, almandine?)
Lawsonite
Sphene (titanite)
Aragonite
Quartz
Pyrite
Talc
Actinolite
Tremolite
Calcite
Glaucophane can be found in small prismatic crystals. The garnets are generally not well formed, though some have good crystal faces. Chesterman points out that the Phengite, clinozoisite, pumpellyite, and chlorite all are green and tend to occur in thin lenses and are difficult to differentiate with a hand lens.
Garnets within the metabasalt can be whitish to deep orange while those in the metasediments are orange-champagne colored. Most are incompletely formed, a few having perfect crystal shapes.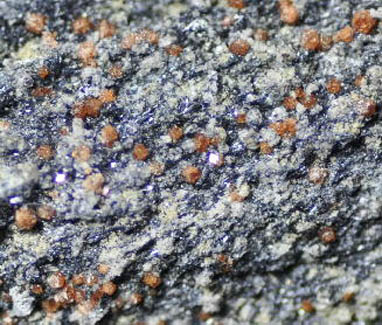 Garnets, Glaucophane (green?)
The talc is somewhat silacious and light green. There are dark green acicular crystals which may be actinolite, but are so small that testing for hardness is nearly impossible. However, the dark green is quite lusterous and a wonderful emerald green color.
Many small crystals are visible using a hand lens, but impossible to identify with my eyesight and unfamiliarity with this mineral assemblage. Something which puzzles me are several samples which are a dark bronze-brown and fibrous looking. The color reminds me of some of the stilpnomelane while the fibrous nature is indicative of riebeckite.
Riebeckite, Stilpnomelane
Chesterman refers to two kinds of stilpnomelane, one ferri-, the other ferro. The ferri-stilpnomelane is more abundant and is dark brown while ferro-stilphnomelane is pale greenish. Some of the stilpnomelane appears weathered to an antique bronze color. However, one sample which I had split and hence fresh with no sign of weathering was of the same color of the fibrous material.
Stilpnomelane (black, roundish) in matrix
For those interested in visiting, I would recommend taking a stiff brush to clean off dirt and stilpnomelane dust (some is friable and releases a lot of dark dust). Having a spray bottle would be helpful too since you could wash away the dust and dirt. Much of the fine details of my samples were not apparent until they were later washed and scrubbed.
Unaware of how many green minerals are present, my next visit will focus on this one color. Something else to keep in mind, when looking for Deerite and Howieite, look for very black patches with needle or prismatic crystal faces. A loupe is necessary to help distinguish the dark stilpnomelane and Deerite-Howieite.
Deerite (long, prismatic), Howieite (prismatic, radiating)
Howieite (prismatic, radiating)
Finally, it is not necessary to crack or break up a lot of material here. There is a large quantity of small sized samples strewn across the ground. Also, donít ignore the glaucophane blueschist at the highway road cut. The color is nicely blue and would make great yard rocks.