I took a 10-day collecting trip in mid-April and headed south to get out of Indiana and shake off cabin fever. I left early on the 15th and headed for Candler, NC and arrived at the Streeter B&B around 6 PM. I had a relaxing evening of visiting with Mike, Chrissy and Opal and enjoyed burgers hot off the grill. After eating I was taken on a tour of the Streeter Mineral Museum. What a collection! After the tour we visited awhile and I had to have a little tug o war with Opal and her sock before turning in for night.
Saturday morning around 5:30, Opal came and gave me the cold wet nose to the face wake up call. The power was out from the storms the night before, so we grabbed breakfast at McDonald's on our way to the collecting site. We hunted along a creek in the mountains and found a good bit of nice lapidary material along with some good cabinet specimens. Mike & Chrissy were great guides and in far better shape than I for the terrain! We collected until about 3:30 PM after which I set out for Dexter, Georgia. Here are a couple pics of what we collected that day.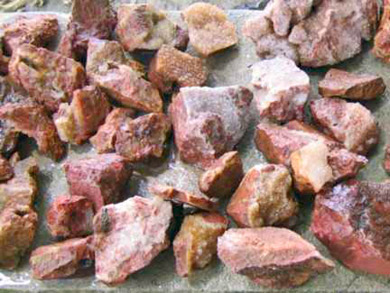 I arrived at the Walker B&B at 8:00 that evening to find Ernie & Phyllis waiting for me with supper on the table....good groceries as always! While staying with the Walkers, we would be collecting throughout the week at 3 or 4 different sites within an hour or so of Macon.
Sunday morn, Ernie and I got up early. His friend Mike F. arrived and we threw down some "country ham" biscuits and coffee that Ernie had made and hit the road. We got to the site around 9 AM I think (would have been sooner if Ernie hadn't taken the scenic route!) We did a little surface collecting but mostly busted up "large" boulders...one in particular. This rock is Savannah river agate similar to what may be found near Girard, GA. One of Ernie's sledge hammers did not survive the day! Ernie managed to also collect a couple of ticks, but I'm pretty sure they died as soon as they bit into him. We collected till 3 or 4 PM and headed home with such a load it seemed like we were riding in a boat and not a truck. The following are close-up pics of some of our treasure.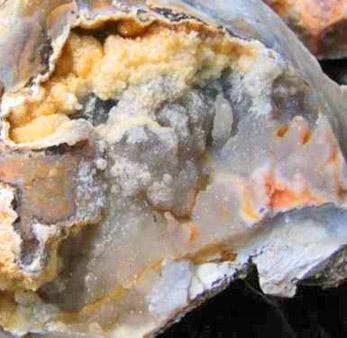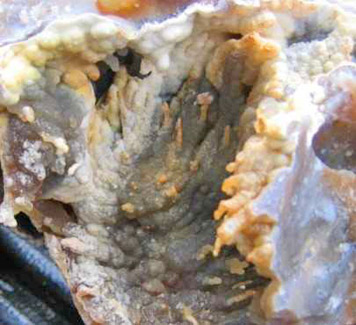 Monday thru Thursday I had the pleasure of riding shotgun in Ernie's Kenworth semi. We started at the lumber mill each morning to load and then would deliver it to wherever. I'm sure I wasn't alot of help during the week, but it sure was fun watching Ernie work! I learned enough during the week to see that the trucking business is not an easy one.....It's not as simple as just getting in a truck and driving; it's alot of physical and mental work and you're always on a tight schedule. I also never realized how important hand signals are and how often they are used in communicating with the "4-wheelers" (truck talk for cars) on the road...Ernie has this art mastered! One of Ernie's favorite moments was a lesson I learned on the first day of riding with him. I learned the hard way to not press my arm up again the HOT chrome exhaust stack to regain my balance when getting out of the truck. The softball size burn put a smile on Ernie's face every time he saw it for the rest of the week! We got done early afternoon on Thursday and went collecting with Bill another of Ernie's friends until dark.
Friday and Saturday we collected agate at two different locations in South GA, and even found a few geodes. That's me and Bill below at the geode spot.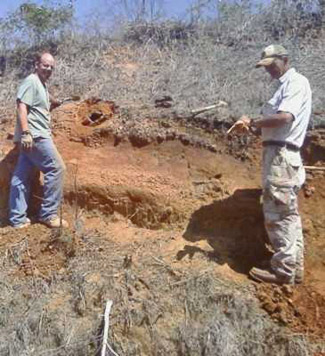 The size of some of the agate boulders were crazy.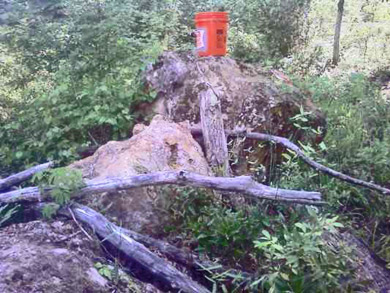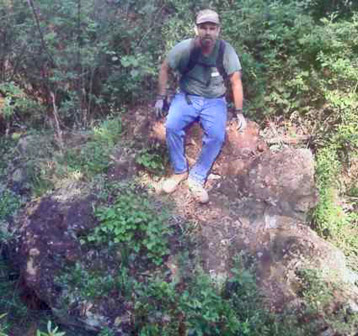 I hit them a couple times with the 16-pounder, but they won! We did find alot of smaller boulders to pick on and ended up with alot of nice cutting material and a few cabinet specimens. A few pics of Fri and Sat treasures.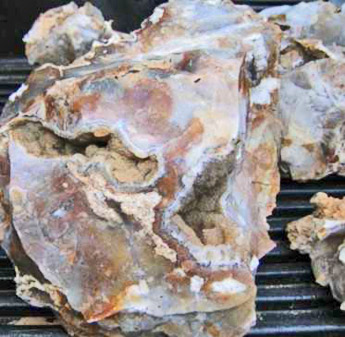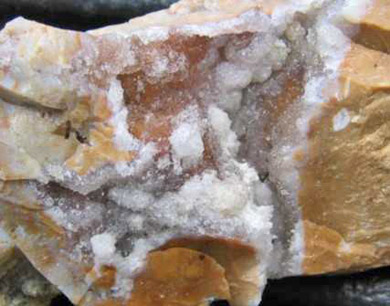 Sunday morning came and I was loaded up and ready to head for home and Ernie was more than glad to get me on my way!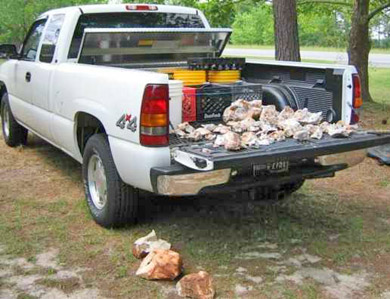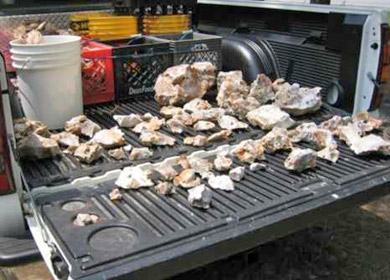 The whole trip was better than I could've imagined... Good times, Good friends and Good memories! Thanks Mike, Chrissy & Opal for putting me up and showing me a great time. Special thanks to Ernie & Phyllis Walker for feeding, housing and just putting up with me for 8 days!