The Standard Minerals Glendon pyrophyllite mine is best known for its monster size pyrite crystals that reach up to a 6 inches on a side. Other collectable minerals include fluorite, hematite, magnetite, quartz, chalcopyrite, bornite, siderite, calcite and chloritoid.
SFMS clubs from South Carolina, Georgia, North Carolina, Virginia, Tennessee and Florida were represented at this year's field trip. After the requisite safety meeting by Jim Flora and myself, the group of eager rockhounds were turned loose for the day.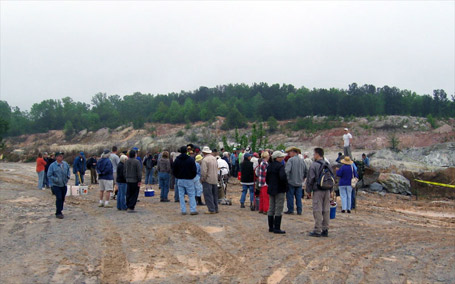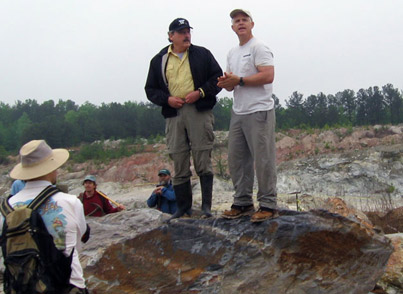 Many headed into the the pit to dig in the pyrite zone.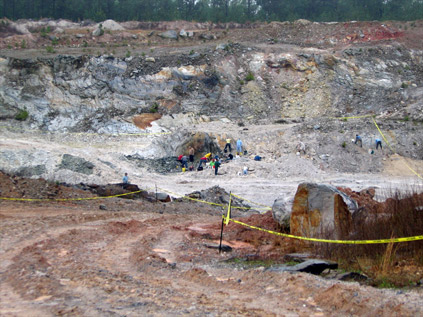 Different this year and for the first time, the Standard Minerals crew had hauled and dumped many tons of rock and minerals to an area near the mine entrance making it easier for just about anyone to enjoy success.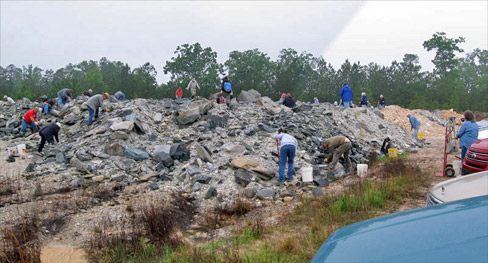 Collecting techniques for pyrite on the voluminous spoil piles ranged from near effortless surface collecting to more strenuous digging and rock splitting (that's me swinging below).
From what I saw, it was a fruitful day for just about everyone who attended and expended a modicum of energy. Chrissy and I spent just about the entire day collecting in the spoil pile area for pyrite and was pleased with our results. The following pictures show some of what we dragged home.
While digging, I noticed some interesting quartz-rich rocks that I thought might be good cabbing material. I have since slabbed and cabbed the rock and I'll let you be your own judge about the results . . . but I like 'em.
(cab pictures do not enlarge)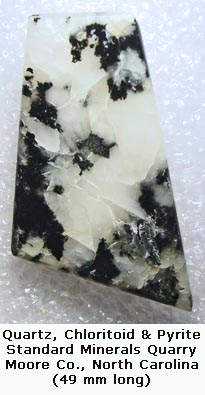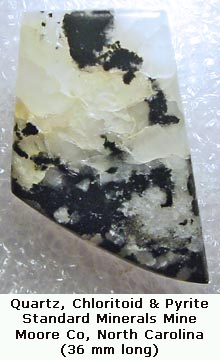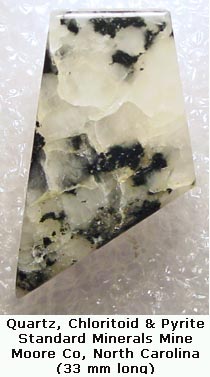 Our amiable and helpful hosts for the day were Standard Minerals' employees Cody and Kenny. Many thanks to both for being there on their regular day off to take good care of us rockheads.