According to my research, the Del Rio District, a barite mining area in southeastern Cocke County, Tennessee, is about 19 miles long, has a maximum width of 7 miles and trends NE. The district contains about 12 mines and 5 major prospects that yielded about 55,000 tons of barite from 1880 to the 1940s.
Two principal deposits of barite occur along or near fault planes. Small but comparatively high-grade deposits are localized along a bedding-plane fault at the base of a quartzite bed 50 feet thick that dips 50º SE. The quartzite has been named the Moccasin Gap member of the Unicoi formation. The zone of extensive shearing and brecciation, which is as much as 7 feet thick, served as a channel for the ascending hydrothermal solutions.
The rocks of the area are the Precambrian Snowbird formation and the Sandsuck shale and early Cambrian clastic rocks of the Unicoi, Hampton, and Erwin formations, the Shady dolomite, and the Rome formation. These rocks occur in two overthrust sheets that have been pushed from the southeast into their present positions whereby the Brushy Mountain sheet overrode the Del Rio sheet.
The Moccasin Gap mineral assemblage generally consists of ankerite, dolomite, barite, quartz, and pyrite. White, glassy, coarsely crystalline barite occurs in pods and veinlets in the ankerite-rich parts of the fault zone, and to a lesser extent in the lower part of the quartzite hanging wall.
Although Moccasin Gap didn't turn out to be hotbed for fine mineral specimens, we collected some interesting representative rocks before fighting our way back down the mountain.
Click on each specimen picture to enlarge.
Usually never being one to give up, I decided to investigate another way to get to the Williams-Krebs mine that didn't involve crossing private property. I discovered another forest service road that appeared on a topographic map to allow access from a completely opposite direction, but would necessitate a very strenuous several mile hike across uncharted (by me) rugged landscape. So, on another December Saturday morning, Chrissy and I again drove to east Tennessee, but at least this time we didn't have to follow the long detour because the road to the trailhead was before the bridge construction. Chrissy is always game to follow my lead, although somewhat hesitant at times having been dragged into more than a few thick forests while prospecting over the years; as it turned out, this day became yet another reason for future hesitation.
We drove into the National Forest on a road pocked with deep muddy potholes and parked in an open area at an abandoned farmstead. We continued to follow the road on foot and, when it appeared to die, I was without any landmarks, so I had to rely on my compass and ancient not-always-working-great Garmin GPS unit to point the way through a thick forest full of rhododendrons and briers. Those of us who have bushwhacked in the southern Appalachians know that rhododendron thickets, and especially those replete with briers, are a scourge to all who dare to venture off-trail. Since the nasty bushes grow low to the ground in a tangled mass of leaves and branches, making our way though them required twisting, climbing, crawling, and an appropriate amount of swearing (by me and according to my standards). Although we generally try to avoid putting ourselves in predicaments like this, we were on new ground and therefore had to head in the direction the compass and GPS indicated, so avoiding the lousy-stinking-good-for-nothing rhododendron thickets wasn't a viable option.
After fighting the forest for about a mile, we came upon old logging road that appeared to be heading in the right direction and we were all too happy to get back on trail and follow it. When we had to leave the road to head toward the next point on my map, thankfully there were no rhododendrons with which to contend. But, the incline was very steep so it took great effort to finally reach a ridge top.
As we followed a well-traveled two-track road along the ridge in the direction of where I had mapped the mine, we came upon a couple bear hunters in a pickup truck heading down the mountain. They stopped, got out of their vehicle and, in a friendly manner, one of them asked if we knew where we were. No doubt, Chrissy and I looked out of place, especially since I was carrying a mattock and had my six pound sledge hammer strapped to my side. I good-naturedly answered that I knew exactly where we were and pointed out our precise location on my map. I told them we were looking for an old barite mine, but they weren't familiar with its name or location. When I informed them why we had hiked in the way we did, they said that the forest service road we chose not to follow on our first attempt to find the mine was indeed open to the public. The US Forest Service installed the road, so it is a permanent easement to access the national forest. For some hairbrained reason, the owner of the property surrounding the road took it upon himself to post it despite not having legal authority to do so, so all the area hunters simply ignore the signs. Having just battled our way though a plethora of rhododendron thickets and up a very steep mountain slope, we were glad to hear we'd have a MUCH easier time getting to the mine the next time . . . that is if we actually found it and there was a next time.
We bid farewell to the hunters and spent a few more minutes talking to another one who pulled up shortly after the other guys left. He too wasn't sure about the exact location of the mine, but did offer a few educated guesses. He said something about remembering a big hole near a huge wall of rocks that he'd seen years earlier while hunting and this turned out to be a good clue.
We continued to follow the GPS unit that again led us off road and into another, you guessed it, rhododendron thicket. But, according to the unit, we we should have been right on top of the mine, except it was nowhere in sight. While Chrissy rested, I scurried up and around an area about the size of a football field, which seemed a whole lot bigger having to battle bushes, but couldn't find any trace of the mine. Knowing that we'd have to start heading back to ensure not getting caught in the dark, Chrissy followed me down a steep slope to where I knew there was a road we could use to head in the proper direction. Lo and behold, we somehow lucked out and came upon the mine just before making it to the road. As it turned out, the GPS coordinates that I had cross checked from four separate sources were wrong. The mine is actually about 1/4-mile as the crow flies from the published GPS location. This is yet another example of a mapping error that got passed on from one source to another over the years.
Since we really had to start back, we spent only 15 minutes looking around the mine, but vowed to return having discovered its actual location and hopefully a much easier way to get there. Besides, I had forgotten to bring my camera on this outing and I really wanted to, at least, document the mine with pictures, and of course check it out for mineral specimens, so we had to come back.
The following weekend, we took another crack at the Williams-Krebs Mine. This time getting there was easy peasy. After driving in on the not-really-private road and parking, it was a fairly moderate hike of only about eight tenths of a mile on an open two-track road and then about 100 yards up a steep slope to the mine workings.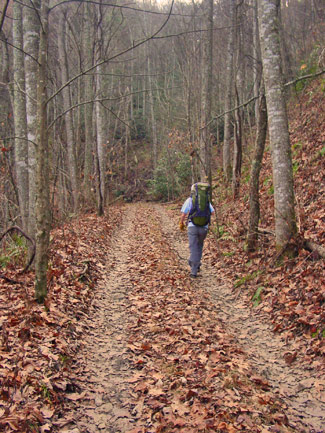 Chrissy on Road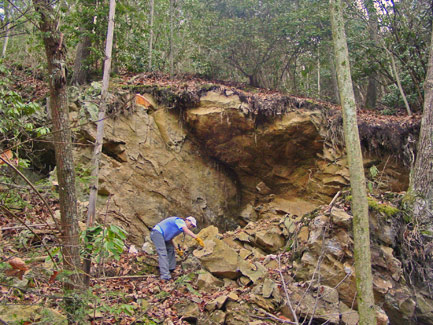 Chrissy Inspecting Rocks Below Lower
Williams-Krebs Barite Mine Adit
Large, low-grade deposits of the Williams type occur in a shear zone at the base of the upper thrust sheet in the pink arkosic to quartzitic Snowbird formation. The shear zone is as much as 9 feet thick and contains quartz, hematite, barite, fluorite, pyrite and traces of several copper minerals, all of which have a platy appearance inherited from the previously mylonitized host rocks. The most abundant mineral is quartz discolored by blue-black hematite.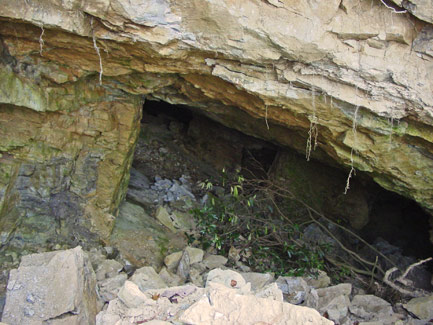 Williams-Krebs Barite Mine Lower Adit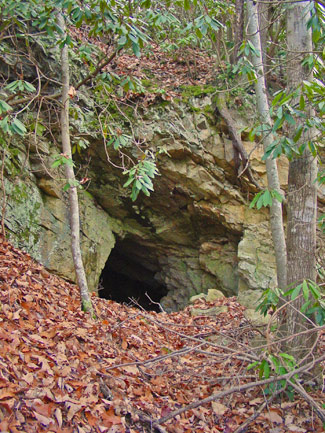 Williams-Krebs Barite Mine Upper Adit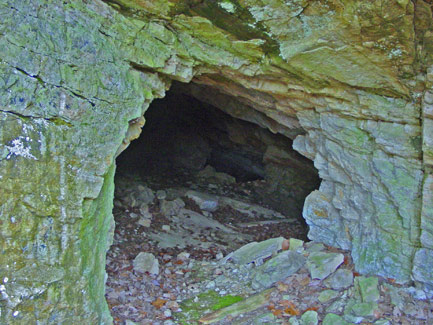 Williams-Krebs Barite Mine Upper Adit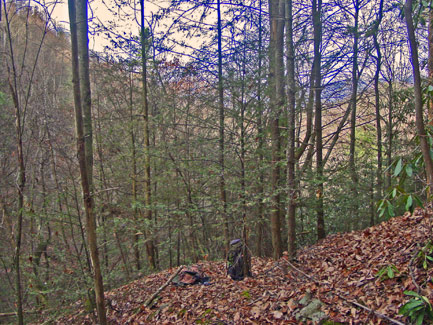 View Downslope from Mine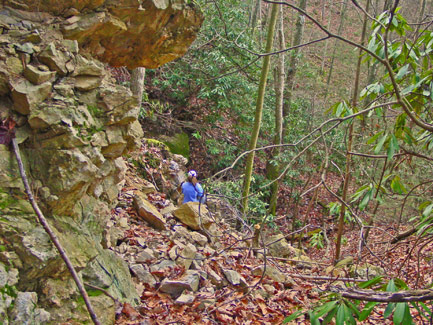 Chrissy sitting amidst mine rubble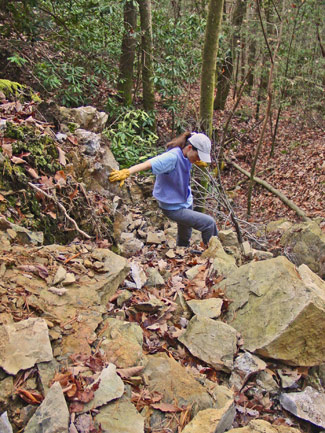 Chrissy scampering over rocks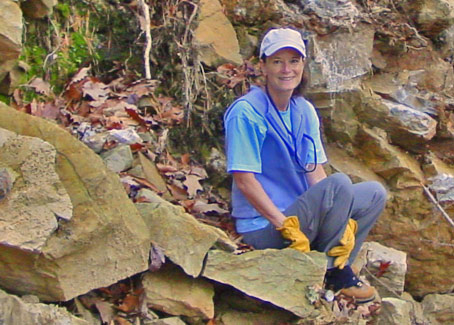 Chrissy taking a break to pose
As with Mocassin Gap, there really wasn't much in the way of mineral specimens to write home about, but we did carry out some pretty rocks with some being borderline cabbable.
Click on each specimen picture to enlarge.
Cab pictures do not enlarge.
The rocks we observed at Mocassin Gap and Williams-Krebs confirmed what I had read about the locations in the literature: that the mineral composition of the deposits in the eastern and western parts of the Del Rio District differ so markedly as to suggest a mineral zoning regardless of whether the deposits are of the Williams or Moccasin Gap type. Sericite, specularite, fluorite, and traces of copper are characteristic of the barite deposits in the eastern part of the district; abundant ankerite, little sericite and fluorite, and no specularite are characteristic of the deposits in the western part of the district.
Despite a dearth of prime time mineral specimens, no doubt we'll return to Mocassin Gap and Williams-Krebs one day, just for their geology, history and our sense of adventure.
Principle reference: Ferguson, H.W. and Jewell, W. B., 1951, Geology and barite deposits of the Del Rio District, Cocke County, Tennessee: Tenn. Dept. Conserv., Div. Geology Bull. 57, 235 p.