Darren and Tully in Orgeon
Richardson Ranch - Maury Mountain
Glass Buttes - Lucky Strike - Lookout Point
June 2005
By Dan Kelly
dkelly4819@aol.com
Well, the day finally arrived, Darren and Tully were arriving from Australia today. We had been talking and planning for this day for the last year and a half. Darren and Tully had never been to the states, and wanted to come to Oregon for Thunder Eggs, Obsidian, Agate, and Pet Wood. I offered to put them up, and to show them some of our best rock collecting places. Well, Friday, they arrived. I meet them at the Eugene airport, not quite knowing what to expect, and what kind of language barrier we might face. As soon as we meet in person, it was like we were old friends for many years. It was in the 80's when they arrived, which was hot for this time of the year here, but just right for the Aussie's. Well we loaded up the car and drove the 45 minutes to our house up the McKenzie River. We exchanged rocks, brews, and laughs. We finally wandered off to bed. The next day, they were kind enough to help out in setting up for our wedding reception, that went fine, and the next day we had the reception. We all passed around Vegemite, and the brave one's tried it, I did! It tastes like Bullion. Well, they seemed to enjoy the reception. And the next day we cleaned up, and packed up to get ready for our adventure to the East side of the Cascades.

Tuesday Morning arrived, and off we headed to Richardson's ranch, Home of the famous Priday Thunder Egg Beds. I love going there, if nothing else just to look at all the rough they have laying around.

But first we made a stop at the Lava National Monument near the 3-Sister mountains. Tully saw his first SNOW.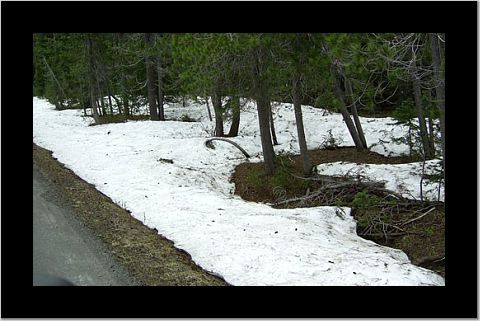 Lava National Monument Observation Shelter.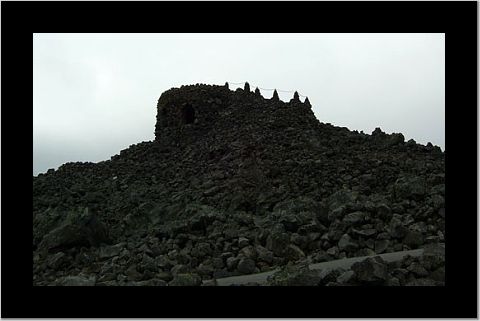 Inside Shelter.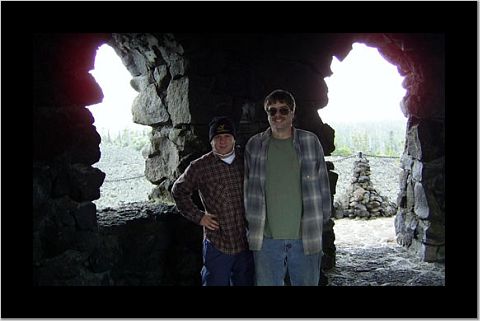 What's at Lava National Monument? Yep! LAVA! Miles of it.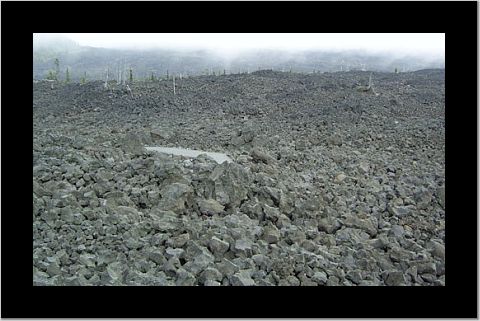 Now to Richardson's Ranch, look at all the rough.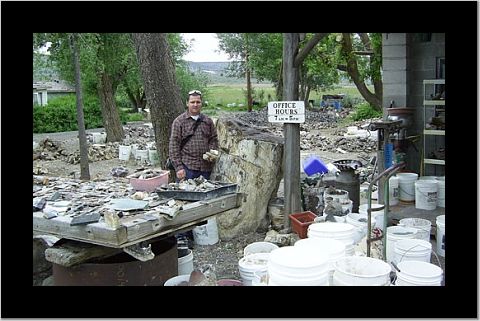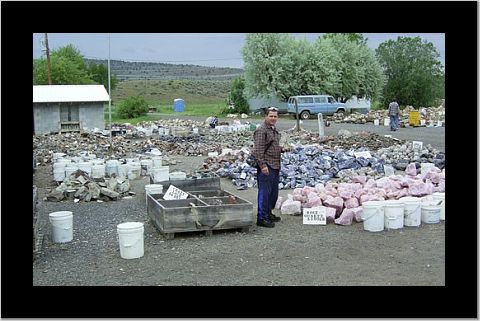 After looking the rough over for awhile, and exchanging Aussie stories with Mr Richardson, we headed for the Egg Beds.


Red Bed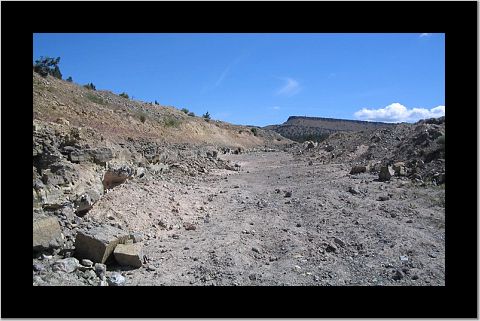 We made it to the Moss Bed, Red Bed, and While at the Blue Bed, it began to rain. Now if you have never been on Eastern oregon dirt roads when it rains, let me tell you it will get very slick in a matter of minutes, and we were told if it rains, head back to the office, NOW! Well, the longer we stayed at the Blue Bed the more it began to rain, ok, ok, enough, we headed for the shop, never did make it to the Opal beds, Oh Well! Next Time. Well, after a bit more rough buying, and paying for our eggs, we headed towards the Ochoco's for the night to camp. Well, the closer we got to Prineville, the harder the rain got. So, Tully, suggested we get a room for the night, as opposed to setting up the tent in a mud puddle, well, he didn't have to convince us too hard, off to a motel in Prineville.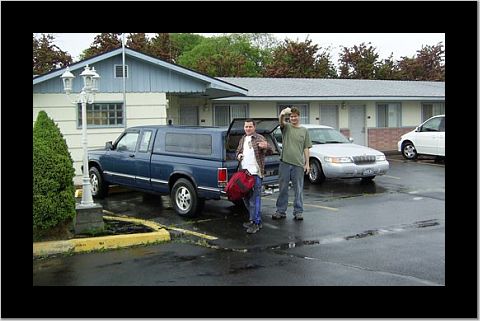 After a nights rest, and a shower, we headed towards Maury Mt Moss Agate digs. These digs are set aside for rockhounds, it is a lot of hard rock mining, with a fair amount of float. The best pieces are the tri-color, Red, Yellow, and Green, but any combination will do.


Tully and I at Maury Digs.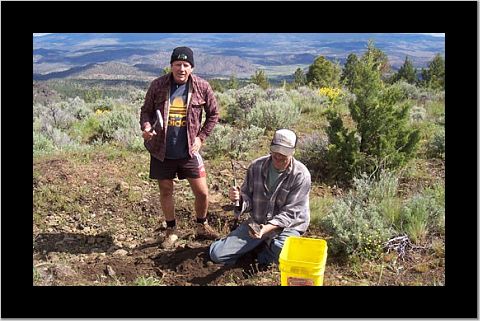 Some of Darren's Maury Red Moss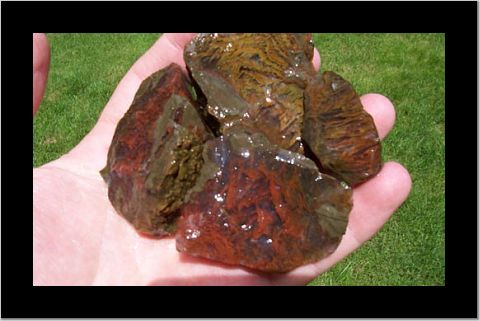 Report continued . . . . . . .